Crafts for Kids: Sock Snowman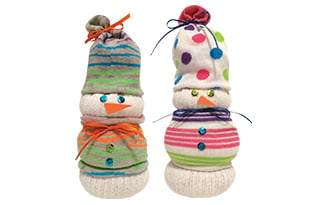 This quick and easy snowman will put a smile on your face, especially when your family is stuck inside during those cold winter months.
Supplies:
– 1 white crew or tube sock
– 2 colorful patterned ankle socks
– Coordinating ribbon
– Buttons, sequins or wiggly eyes
– Rubber bands
– White craft glue or hot glue gun
– Orange fun foam
– Scissors
– Rice
1. Cut the foot part off the sock and discard.
2. Turn the tube part of your sock inside out and tightly wrap a rubber band around the bottom. Then turn the sock inside out again so the rubber band is on the inside.
3. Fill the sock with rice, making sure to push the rice down as you go. This will stretch the sock so you have a plumper snowman when finished. Then, close the top by tightly wrapping another rubber band around the top.
4. For the first ankle sock, you need to cut off the toe and the heel. For the second short sock you cut off the heel only.
5. To make the snowman's sweater, take the sock without a toe and a heel and stretch it over your rice filled sock. Then, pushing the rice down to make a solid base, secure a rubber band around the bottom of the sweater (You may also tie a piece of ribbon). Next, do the same thing with the top of the sweater to help form a middle section to your snowman. For the hat you stretch the other sock (that still has a toe) onto the top of the snowman. You can tie with ribbon at top to help make it look more like a hat and less like a sock.
6. Next, add your trimmings. For the snowman's eyes, glue on wiggly eyes, sequins or buttons. Then trim a small triangle out of the orange fun foam for the nose. You can also add button trim to the snowman's sweater if desired.