Crafts for Kids: Shrink, Shrank, Shrunk
Shrinky Dink fun.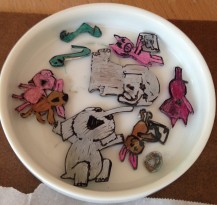 After a summer of travel, day camp, road trips and assorted other hectic activity, it seems fitting to finish the season with a little something called Camp Mommy. That's right, we stayed home without a plan. This sounded great in theory, and in the shadow of back-to-school, having no schedule sounded perfect.
By Tuesday, 500 games of Uno later, I knew I'd miscalculated.
In desperation, we headed to the craft store, where we found this shrinking plastic film – that's right, the stuff of Shrinky Dinks! You don't need a whole kit anymore, although you can still buy it and the Shrinky Dink website is full of project ideas. But we didn't know this yet, so we just bought the film and raced home to try it.
It's as fun as it was 35 years ago. In case you don't remember Shrinky Dinks, the idea is that you draw with permanent markers on a sheet of plastic, cut out your creation, and bake it in the oven for a few seconds, where it melts and curls into a little ball, then magically flattens itself out again into a tiny, thicker version of the original drawing. Perfect for jewelry, zipper pulls, finger puppets, or just a bowl full of tiny trinkets like what is sitting on our kitchen table right now.
The film comes in colors, but we bought the old school, clear kind and I'm so glad we did. Amelia traced characters from picture books and shrank them, tried making beads (punch the hole before you shrink them!) and we even made a nametag zipper pull for her backpack. The best part? We haven't played Uno since last week!
A few tips:
Remember that your items will shrink to about 30% of their original size – so skinny areas will get skinnier, and possibly break during the melting process. Cut generously!
The film doesn't cut well with safety scissors. We used adult scissors, and I did the cutting.
We used colored Sharpies, but any permanent marker should work. The film package says you can even use colored pencils after gently sanding the plastic film a bit, but we didn't try that.
They will be HOT for a few minutes after shrinking. Don't touch them yet!
The package suggests using an oven, toaster oven, or embossing tool, which is a handheld heat blower. We tried the embossing tool, and it works but be warned – it will blow your shrinky dink around. We placed the cut out film in a small tray and blew it into a corner so it couldn't get away.
Buy extra film! This stuff is addictive, and Amelia's been spreading the Shrinky Dink love, inviting every playdate to try it out…we're down to scraps over here!
Want more Mess? Visit Melanie's personal blog, or drop by her Etsy store, Made by Mommy.