Crafts for Kids | Rudolf Reindeer Puppet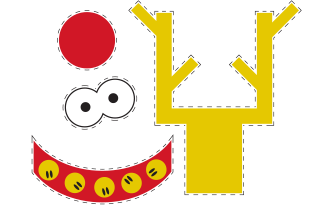 MATERIALS:
• Brown paper lunch sack and glue stick
• Nose cut out (or pom-pom ball)
• Eyes cut-out (or wiggly eyes)
• Antlers (or pipe cleaners)
• Bell collar cut-outs (or draw with crayons)
Download Reindeer PDF (print in color). Includes cut-outs of red nose, antlers, eyes and bell collar.
INSTRUCTIONS:
Parents: If using cut-outs from PDF, assist younger children by cutting out the shapes before starting.
1) Glue red nose to hang slightly off the fold of the bottom of the bag. (Or you may glue on a red pom-pom ball from craft store.)
2) Glue cut-out eyes above nose. (Or you may glue on wiggly eyes from craft store.)
3) Place collar on lower half of the bag – same side as eyes and nose. (Or have child draw any decoration with crayons.)
4) Attach antlers to the back of the back, sticking up above eyes and nose. (Or use glittery pipe cleaners attached with tape.)
5) Open mouth of puppet and write Ho-Ho-Ho or Merry Christmas.
Enjoy your easy-to-make reindeer puppet during the holidays.