Crafts for Kids: Recycled Egg Carton Springtime Basket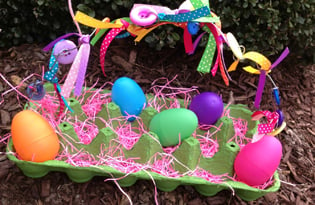 This springtime basket is perfect for little ones gathering colorful Easter eggs and or for a special springtime party.
Materials and Supplies:
Recycled cardboard egg cartons
Spray paint
Wire (electrical works great)
Buttons
Ribbon pieces
Paper grass
Tacky glue
Scissors
Hole puncher
Directions:
Cut the lid and side piece from the egg carton and spray paint it. Two coats will make it brighter and shinier.
Cut a 24-inch piece of wire. Add buttons to the wire every 2 inches or so by threading the wire through the holes and twisting it around.
Punch a hole in each end of the carton and thread your wire ends through, twisting them to secure a handle.
Tie 6-inch pieces of ribbon onto the handle into double knots. You can double a few sections up to create a thicker and fuller look.
Eggcellent! Add paper grass in each hole if you like that addition. If you want it to stay secure, put a little tacky glue in each hole first, then let it dry for a few hours before using the basket.
Laura Kelly is a North Carolina artist and creator of Laura Kelly Designs. Find more of her crafts at laurakellydesigns.com.
Read More: 


Springtime Crafts and Recipes