Crafts for Kids: Recycled Christmas Trees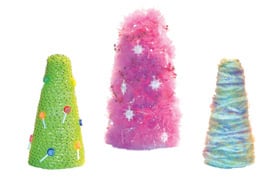 This is a fun, economical craft that can be tailored for a variety of ages and will help clean out your craft supplies. Use whatever you have on hand to make these attractive and unique Christmas trees.
Supplies:
Foam cones
Craft trims (ribbon, yarn, rickrack, twine, raffia, etc.)
Craft decor (buttons, mini ornaments, bows, bells, pine cones, etc.)
Straight pins
White craft glue
1. Choose your trim and pin or glue it to the bottom of the foam tree. Keep wrapping it around the cone until you get to the top, so the tree is completely covered. Secure the end with additional glue or pins.
2. Decorate the wrapped tree with your choice of ornaments using pins or glue.
Your finished trees are now ready to display in your home or be shared with other family members.