Crafts for Kids: Patriotic Paper Lanterns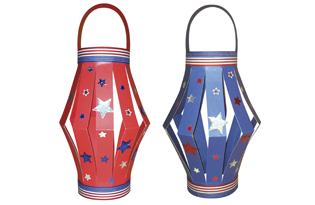 A fun summer craft just in time for Fourth of July celebrations.
Supplies:
Card stock in red, white or blue
Scissors
Ruler
Pencil
Double-stick tape or stapler
Patriotic ribbon
Star stickers
1. Trim card stock to 10-by-12 inches and fold in half lengthwise. Use your ruler to draw equidistant lines perpendicular from the fold in 1-inch increments, leaving an inch from the end of your line and the cut edge.
2. Cut on each line, stopping when the line ends making sure not to cut through to the edge.
3. Unfold your paper and then with the folded bumps on the outside, turn inward and attach at the top and bottom using stapler or tape.
4. To complete your paper lantern, attach a 1-inch strip of card stock as a handle. Then add star stickers and patriotic ribbon around the top and bottom.
Read more:
4th of July Fireworks, Crafts and Events