Crafts for Kids: Mini Gratitude Journal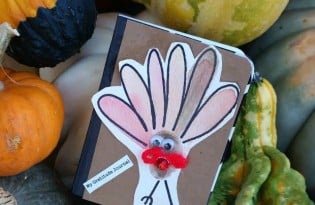 November is a fun month for creating projects that celebrate gratitude and thankfulness. As the harvest season closes and families make Thanksgiving memories, making a mini gratitude journal here is a great way to get kids in on the action.
To make these you will need the following materials and supplies:
• Mini Composition Books (from the dollar store)
• Aleene's School Glue (or other similar glue)
• Watercolor Paper and Watercolors
• Sharpie Marker
• Google eyes, button and yarn (optional)

The first step is to create a thumbprint turkey. To do this, rub your thumb in wet watercolor paint and press it onto the paper. When the thumbprint is dry, add legs and feathers with a black Sharpie marker (a permanent marker will keep the watercolor painting from smudging your lines), then add color with the paints. Let it dry.


Next, cut the turkey out and glue it to the top of the composition book. (You can glue paper underneath first to cover the book design, if you want to add that step) Then, glue on your detail pieces for eyes and such, or draw them on with the Sharpie.


Ta da! Now the journal is ready to fill with all of the things that make us thankful.
Provided by North Carolina artist Laura Kelly, creator of Laura Kelly Designs. Find more of her crafts at laurakellydesigns.com/cms/Videos.php.