Crafts for Kids | Make a Keepsake Family Christmas Tree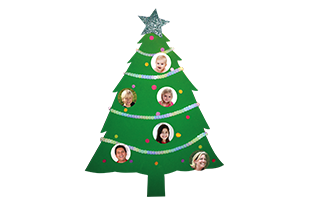 Supplies:
Green foam, construction paper or poster board
Hole punch
Tissue paper (variety of colors)
Small photo of each family member
Scissors
Glue stick or tape
Soda lid
Suction cup hanger
Optional embellishments
How To: 
1. Draw a Christmas tree shape on a scrap piece of letter-size paper and cut it out. Tip: For a symmetrical tree, fold paper in half and draw one half of tree. Trim out and unfold for tree template.
2. Trace tree template onto green foam or paper and cut out.
3. Punch several scattered holes using hole punch.
4. Cut strips of different colored tissue paper and then cut the strips into smaller 1/2-inch squares.
5. Use glue stick or tape to attach each square of tissue over the holes on the back of the tree.
6. Using a soda lid, trace circle shape onto each family photo, cut out and glue these family ornaments to your tree.
Optional: Use sequins, pipe cleaners, buttons and other crafty items you may have on hand to make a star or further decorate and personalize your family tree.
Once finished, attach small piece of pipe cleaner or ribbon to back and then hang your tree in window. When the sun shines through, the lights on your family tree will glow!
More Holiday Fun:
Top-Selling Family Board Games
A Very Thomas Christmas Activity Sheet
No Melt Snowballs
Up-cycled Holiday Garland
Magic Reindeer Food Recipe