Crafts for Kids: Frozen Paint
DIY glitter paint.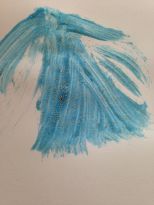 Sometimes the coolest products are also the simplest. We've gone through gallons of glitter glue and sparkly paints at our house. It never occurred to me to make our own…until someone else did.
Last week Amelia and I went on our first annual mother-daughter road trip, and we visited the Children's Museum of Winston-Salem. This place has a fantastic art studio, with different projects and materials every day. And on our day: Glitter Paint.
I had to ask how they made it, because clearly they had. And it couldn't be easier. Mix together:
1 part white glue
1 part tempera paint
glitter
That's it! The glue holds the glitter on, and also gives the final dried product a glossy sheen. Kids were painting green birds and sticking on parts – no additional glue needed, since everything stuck to the glitter paint.
We had to try it at home. Frozen is all the rage at our house these days, so it had to be blue. But we made a few substitutions. We didn't have blue tempera paint, so instead used fingerpaint. Easy swap. A less easy swap was the glitter. I only had gold…and authentic Frozen sparkle should be silver. Ooops.
But it sparkled anyway, and had the satisfying slipperiness of finger paint, so there was much painting and washing of the hands.
Next time, silver glitter!
A Few Lessons Learned:
This stuff lasts! Put it in a jar with a tightly closing lid. We used ours again after a few days and it hadn't dried out at all.
Bring out the sequins, feathers, paper doilies, fabric scraps, whatever. The glue makes this paint sticky, so you may as well embellish.
Wash out your brushes right away, or use disposable ones! Glitter and glue don't rinse well once they dry.
Want more Mess? Drop by my personal blog, A Crafty Mess, or visit my Etsy store, Made by Mommy!