Crafts for Kids | Fall Leaf Candle Jar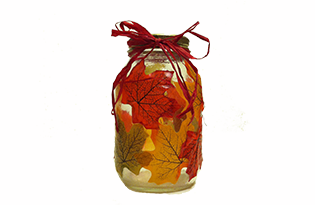 Add some color to your holiday with this easy Thanksgiving Day table centerpiece.
Supplies:
Glass jar (a Mason jar works great)
Fall leaves*
Mod Podge
Paintbrush
Acrylic spray (optional)
Raffia
Tealight candle
Brush outside of jar with an ample coat of Mod Podge, avoiding the bottom and the top ridges (if using Mason jar).
Attach leaves one by one, arranging and slightly overlapping as you go, but don't cover so much that light cannot shine through. Smooth down the edges and brush with additional Mod Podge as necessary to adhere them well. Let dry. 
Once dry, brush with one more coat of Mod Podge and let jar dry. Tip: Use a dabbing technique on glass where there are no leaves. This will look nicer than brush strokes once dry.
If desired you can also seal with a coat of acrylic spray after Mod Podge is dry.
Tie raffia bow around top and pop in a tea light. Your candle jar is ready for your Thanksgiving table.
*You may use pressed and dried fall leaves. Or if you are short on time and don't have the two weeks necessary to properly dry leaves, use artificial silk ones. Just make sure your leaves don't contain rigid veins and are pliable enough to adhere to the jar's curves.
Related links:

Thanksgiving Turkey Decoration

Turkey Sun Catcher

7 Post-Turkey Activities for the Family