Crafts for Kids | Eco-Friendly Bird Feeder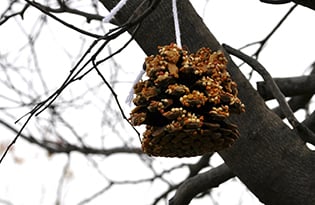 Remember this easy-to-make feeder? Get the kids to help with this craft that offers hours of enjoyment once completed. 
What you'll need:
Pine Cone Peanut Butter
String Bird seed
Wrap string long enough to suspend from a tree branch around the top of the pinecone, tying it off and allowing enough leftover string to hang over a tree limb. Use peanut butter and spread it all over the pinecone. (This is the messy part kids love!) Pour birdseed in a tin pie plate or on a paper plate and roll the pinecone in the seed until coated. Hang from a tree outside a window so your kids can watch all the birds flock to enjoy!