Crafts for Kids: Eat the Dishes!
Dishware to make Willy Wonka proud.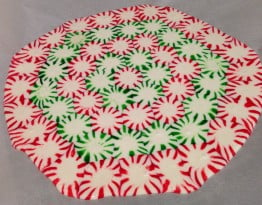 We've got no Tupperware left. Maybe some mismatched takeout containers, but nothing presentable that we wouldn't want back. So I figured I'd need to buy more of those plastic cookie containers with the snowmen on them.
And then I saw THIS.
I had to try it. And guess what? It works, it's easy, and it's cheap. Happy Holidays!
The tutorial says to use Brachs mints. We used the dollar store brand instead, and they were just fine. We arranged them on parchment paper on a big tray, baked for about 7 minutes (watch them carefully – they go from nicely melted to runny pretty quickly), let them cool, and voila! Dishware to make Willy Wonka proud.
These do require a lot of mints, so the dollar store bags are a good find. And the extras make nice gingerbread buttons.
Happy Holidays, from our Mess to yours—and if we give you any treats, please keep the dishes!
Want more Mess? Visit Melanie's blog, A Crafty Mess, or drop by her Etsy store, Made by Mommy.