Crafts for Kids: Doodle Rainbow Flowers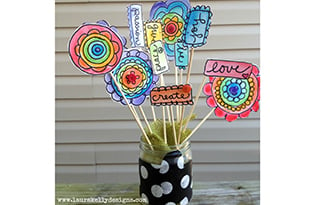 These flowers are fun and so easy to create. Here's how to make them for a garden or bouquet.
What you need:
• Watercolor paper or thick card stock
• Permanent black marker
• Watercolor paints, markers, crayons and/or colored pencils
• Scissors
• Wooden skewers
• Glue
• Vase or flowerpot
How to Make: 
1. Doodle your flowers on watercolor paper (or thick card stock) with permanent marker in black. You can also doodle words or bugs to add to your project.
2. Color the flowers in with watercolor paint, markers, crayons or colored pencils.
3. Cut the flowers out and glue them to wooden skewers.
4. Stick them in a vase or in a pot of soil to create a garden or a bouquet.
Laura Kelly is a N.C. artist and creator of Laura Kelly Designs. 
Read More: 


Springtime Crafts and Recipes