Crafts for Kids: Dave and Stuart Minion Pumpkins
A Halloween craft for the Despicable Me lover in your family.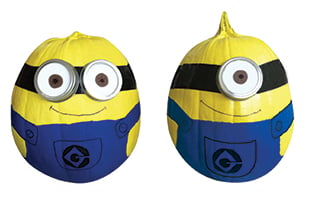 Supplies:
Pumpkins (taller is better than fatter for this project)
Yellow spray paint
Blue craft paint
Sponge brush
Black Sharpie marker
Brown construction paper (or marker)
White paper
Black duct tap
Pencil, scissors and glue
Mason jar lid rings (1 per eye)
---
Directions:
1. Start by spray painting your pumpkins all over with yellow paint and allow to dry thoroughly.
2. Place black duct tape around upper portion of pumpkin to create band for goggles. You may also use black paint instead of duct tape.
3. Using photo as a reference, lightly pencil sketch overalls and fill in with blue craft paint. Once thoroughly dry, use black marker to outline and create pocket detail.
4. For eyes, cut white paper into circle shape to fit inside of mason jar ring. Cut smaller brown circle for the eyeball and glue in center of white circle. Use black marker to add pupil. Glue lid into place onto duct tape band.
5. Marker on a smile and your minion is complete!
---
Renee Canada is the art director at Piedmont Parent magazine.