Crafts for Kids: Cinnamon Stick Christmas Tree Ornaments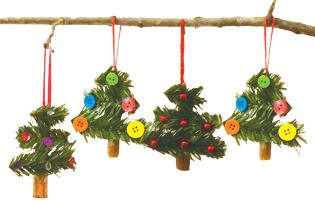 Materials and Supplies:
3-inch cinnamon sticks
¾-inch pine garland
Assorted buttons, sequins, beads or pompoms
Glue gun (use with parental guidance)
Wire cutters (use with parental guidance)
Twine or ribbon
Ruler
1. Start by prepping your materials. Plug in the glue gun so it will heat up. For each ornament, cut a 7-inch piece of twine or ribbon and 1-inch, 2-inch and 2½-inch pieces of pine garland using your wire cutters. If you find your garland is a bit too bushy, give it a slight trim. Once you have your pieces cut, you're ready to start assembling.
2. Using the cinnamon stick as a tree trunk, glue the pine pieces horizontally to it, placing the 1-inch piece at the top, then the 2-inch piece, followed by the 2½-inch piece.
3. Next, loop and tie a knot in the end of your twine or ribbon and glue it to the back of the cinnamon stick.
4. Now you're ready to decorate your tree ornaments. Arrange and glue on your choice of buttons, sequins, beads or pompoms
These ornaments also make nice package tie-ons and holiday favors.