Crafts for Kids: Celebration Wreath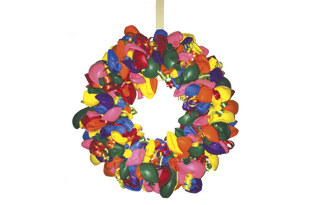 Place this festive wreath on the bedroom door of your favorite birthday boy or girl. Or put it on your front door to share your celebration with the neighborhood.
Supplies:
Straw or styrofoam wreath form
U-shaped floral pins
Multicolor balloons
Curling ribbon in coordinating colors
Scissors
1. Using floral pins, start pinning each balloon in half and stick into wreath.
2. Criss-cross and overlap the balloons as you work your way around the wreath form.
3. Pin on ribbon curls as your finishing touch and to fill in any gaps.
Note: About 150 balloons, 30 snippets of curling ribbon plus enough floral pins to attach all were used on this 12-inch wreath. The amounts will vary depending on size of the wreath form and your personal taste.