Crafts for Kids | Bunny Easter Basket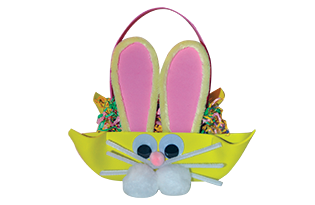 Supplies:
2 12-by-18 inch sheets craft foam
3 pipe cleaners  (trimmed to 8 inches)
2 fuzzy pipe cleaners
2 large googly eyes
1 small pom-pom
2 large pom-poms
Scissors
Ruler
Tacky craft glue or glue gun (with parental supervision)
Instructions:
You'll be ready for Easter with this cute and easy-to-make bunny basket. You can customize using your color choice of foam and accessories.
Trim one sheet of craft foam to a 12-inch square.
Measure 3 inches in from each corner and mark lightly. Fold up sides and vertically staple each corner where the 3-inch marks meet.
Cut 1.5-inch wide handle along the 18-inch length of second piece of craft foam.
Cut two 6-8 inch bunny ears out of remaining foam. Tip: You can draw your ear shape on paper first and then trace onto foam so both ears look the same. Then, glue fuzzy pipe cleaner around the edge of each foam ear.
Make face by gluing on eyes, pipe cleaner whiskers, and pom pom nose and cheeks on one side of basket.
Glue finished ears inside basket behind face.
Glue handle strip inside basket from left to right.
Fill with Easter grass and goodies and you're all set!