Crafts for Kids: Bowl of Leaves
Make your own Thanksgiving centerpiece from freshly fallen leaves.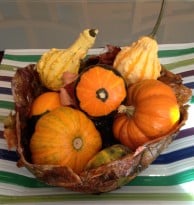 Fall is in the air, and leaves are in the grass. Amelia and I have been saving this leaf bowl project for what seems like forever, and we couldn't wait to try it. Basically, it's a bowl made from freshly fallen leaves, held together with my favorite, mod podge. It didn't turn out quite as we expected, but very cool nonetheless.
The tutorial is all pictures, but it was very easy to follow. You'll need:
A balloon
A bowl the balloon can sit in
A LOT of leaves – fresh, small ones are best
Mod Podge
A paint brush
Blow up the balloon and set it in the bowl to stand it up and hold it still. The shape of the balloon will be the shape of your finished bowl. Cover the portion of the balloon that will become the bowl with a thick coat of Mod Podge. Apply leaves to the Mod Podge, and coat the outside of the leaves with more Mod Podge. We used several layers of leaves to make a thicker bowl.
Let it dry overnight or until the Mod Podge is completely clear and dry, and then pop the balloon. It will peel away from the leaf bowl. The inside of your leaf bowl may still be somewhat wet, so give it another night or so to dry completely.
That's it! It's easy, and the result is beautiful but definitely not perfect. Even though we used many layers of leaves, our bowl is pretty floppy, but we kind of like it that way – the better to fit odd-shaped gourds.
Thanksgiving centerpiece, anyone?
Want more Mess? Visit Melanie's blog, A Crafty Mess, or drop by her Etsy store, Made by Mommy.