Covering the Price of Private School
How to pay for a private school education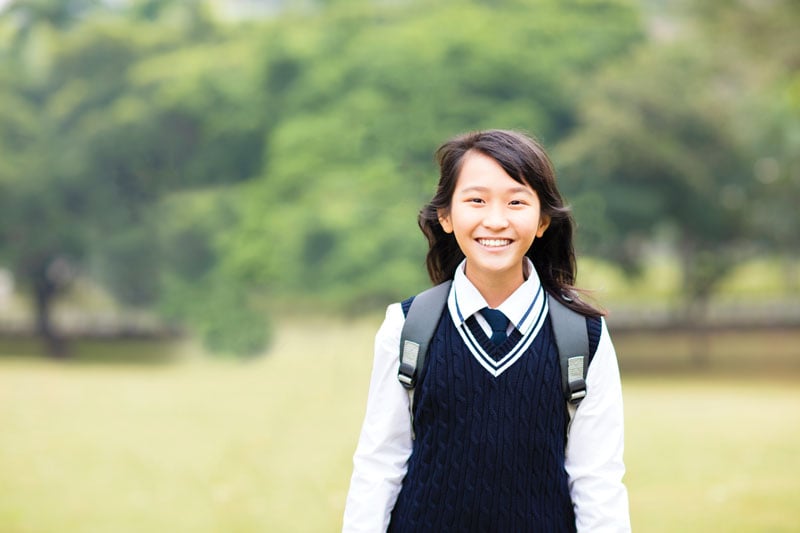 For parents who choose private school for their children, it comes with a price tag. Tuition — and all the other extras — can feel like a huge barrier for those who don't have incomes to support the costs. So how are parents able to fund private school for their children if they can't fully afford it?
According to a recent survey conducted by the Council for American Private Education, 12 percent of all elementary and secondary students nationwide attend private schools. Many of those students come from middle-income families and use some form of financial aid.
"I think what many people don't realize is that in many independent schools, the middle income families get squeezed out, creating a barbell effect," says Jennifer Moore, director of admissions and financial aid at Trinity Episcopal School in Charlotte. "At Trinity, we have an annual fund program that provides the bridge low and middle income families need to send their kids to a private school."
More than $1.3 million dollars in aid was awarded at Trinity last year, leaving some families with just a $500 tuition bill for the year. Around 26 percent of students were on some form of financial aid in the 2015-16 school year, but Trinity's goal is to be able to help 30 percent of school families in the coming years. "With this money, we're able to meet 94 percent of a student's need for aid – the highest in Charlotte," Moore says.
There are just shy of 20,000 students in Mecklenburg County that go to one of 88 private schools, according to the North Carolina Division of Non-Public Education. Many local independent schools that offer financial aid to students can help customize to a family's needs. For example, a school may take into account the number of children in the family, the household income, extracurricular activities, how long the family has been involved with the school or how much the family can honestly afford versus what stretches them thin. Payment plans allow families to make monthly payments to cover the full tuition and evenly spread the cost throughout the year.
---
Faith-Based Affiliation
Christian and Catholic schools make up just more than half of the private schools in Mecklenburg County. Catholic and faith-based schools are among the least costly private schools across the nation, according to National Center for Education, making them an affordable choice from the start for many families. Most religious-affiliated schools do not require students to be a member of the represented faith, which opens the door to any family interested in private school, provided they're accepting of a faith-based curriculum.
Catholic schools, as well as other religious-affiliated schools, typically offer some form of financial aid for many of their students, alongside discounts for church parish members, and a sibling discount for families with more than one child attending the school.
---
Help Outside the School
The Children's Scholarship Fund of Charlotte is a national financial aid program locally available for kindergarten through eighth-grade students in Mecklenburg County only. The qualifications for the scholarship are strictly financial. Scholarships are awarded on a first-come, first-served basis and according to an eligibility of household size versus annual income, says Lisa Clarke, program director for the Children's Scholarship Fund of Charlotte. Assistance is only available to first-time private school attendees — either students going from public school to private, or starting in private school as kindergarteners.
"We receive several hundred applications each year," Clarke says. "The maximum award is $2,500 in financial assistance and we're able to award anywhere between 350-400 scholarships a year." Money for the scholarships is raised through private donations, fundraisers and government grants.
The North Carolina Opportunity Scholarship is a state program that offers financial assistance to eligible children in kindergarten through 12th grade. The grant awards up to 90 percent of the tuition cost or $4,200 (whichever is less) per year, per child. It operates similarly to the Charlotte Scholarship Fund in that it's a strictly financial award and is offered to only first-time private school attendees, or a child that's been adopted in the past year or was in foster care. The same household size versus annual income chart is used to determine for which how much a family is eligible.
---
Saving for the Future
Court Creeden, financial planner at Parent Financial in Charlotte, suggests that saving early is the biggest way to help a family afford private education.
"I think it's important that parents make the decision to send their kids to private school with clarity and based in reality," he says. "Map out the cost of the schooling over the years, taking into account the true cost of the child – not just the tuition, but the books, uniforms, lunch programs, extracurriculars, and if applicable, the cost of a new teenage driver when the time comes. This is where I see most parents trip up … not planning for the longterm."
Creeden suggests opening up a Coverdell Account. A Coverdell Account allows each parent to contribute up to $2,000 a year per child tax-free as long as the funds are only used for school and the family's annual income is less than $220,000 per year, he says.
Another way to prepare for the real costs of private school is to open a savings account one year before you child attends school and begin putting away the equivalent monthly cost of their schooling every month. Be sure to include all costs associated with the education, as well as tuition.
"This gives a family a very real idea of what the cost of private education means to their budget, but also allows them to save for when the time comes," Creeden says.
The choice of your child's education ultimately is a personal one. Making the best decision for your children includes a well-thought out plan for their future — and your own. There are many programs available to help you; you just need to find the right one for your family.
Anne Marie Ashley is a freelance writer and editor. She lives in Charlotte with her husband and daughter, and is excitedly awaiting their second child.