Cooks Can Take a Night Off at ARB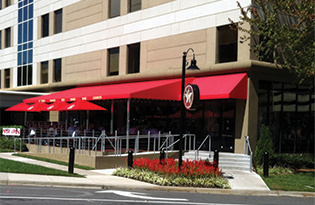 American Roadside Burger
5821 Fairview Road
704-733-9037
americanroadsideburgers.com
$
We decided to meet up one evening with a small group of friends, with toddlers in tow, for a quick dinner at American Roadside Burgers, located in Piedmont Row near Southpark. We chose a weeknight to give the at-home cooks a night off and avoid any potential crowds.
We were able to park near the entrance of the restaurant, and it seemed there were plenty of designated parking spaces to be had by others as well. When you enter, there is a fast-food style ordering line or, as we opted for, a small bar that you could order from, which also proved to be a good place to hang out while our party assembled. While waiting, a friendly patron offered to share a couple of tater tots with one of our ravenous children, which we quickly obliged.
ARB is like a Five Guys restaurant had a baby with a sports bar – simple burgers and fries, plus a nice selection of craft beers. The food was good overall. Burgers were a hit at our table. Roadside salads were also a popular choice. The dads in the group appreciated the selection of microbrews on tap, while the kids enjoyed grilled cheese sandwiches and sweet potato fries. 
While we were the only group there with children, the staff was very accommodating to us and the atmosphere was nice, but not so stuffy that the children were causing a commotion. Our son had just started walking, so our friend's daughter enjoyed holding his hand while they explored our table's surroundings. It was cute and they also liked all the attention they received.
One thing we did miss out on was the dessert option called Lugnuts, which are homemade donuts sprinkled with powdered sugar … but there is always next time.
SIDE DISH
Milk and Juice: Both | Changing Station: Yes | Kids' Menu: Yes
Symbol Key: $ = under $10 * $$ = $11-$15 * $$$ = $16-$20 * $$$$ = $20-plus
> Read last month's restaurant review: Rossini's Italian Restaurant