Consistency and Follow-Through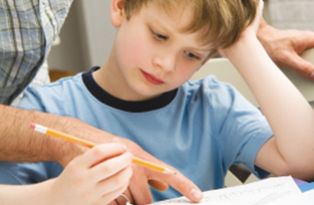 When life is full of inconsistent schedules and too much stress, it's often difficult to stick to a parenting game plan — namely the importance of consistency and follow-through. Back-to-school time is perfect for getting back on track.
Single parents have an even harder time enforcing rules with their kids, not only because they are prone to more stress, but also because they lack an accountability partner to lean on and help pick up the slack.
"I know what I should be doing," says a single mom who works full time and has three active children, "but, by the time I get home from running around all day, I don't have the energy to enforce the rules, so the kids tend to take advantage of me. When I was married, it was easier because my husband would take over when I was too tired."
Parenting on the fly is never a good idea, so the first place to start is with a plan. Consider the values you want to teach your children and create a plan that is realistic and contains concrete rewards and discipline strategies that reflect your values. Write down the plan and revise it as the kids grow.
Here are a few strategies to consider:
1. Start with positive rewards. One of the reasons kids take advantage of parents' inconsistencies is parents don't prove trustworthy in sticking to their word in positive ways. Be consistent in rewarding good behavior. If you have young children, reward them by allowing them to choose an item from a toy bag (create one with items from a dollar store) when they complete their Saturday chores around the house. For older kids, thank them for a good deed or for doing something kind for you. Buy a special treat at the grocery store for your teens when they have consistently followed curfew or driving rules. Positive rewards send a message to children that your goal in life is not to make them miserable, but to show them how to become responsible, caring adults.
2. Use structure to reduce anxiety. Develop homework and chore schedules, stick to them, and make them requirements for your kids being allowed to participate in extra-curricular activities. But, schedule "down time" for them, as well, as children need to see that healthy living means having some time when there are no expectations of them. A schedule and a set of clear expectations also help if the children are spending part of their week or month with their other parent. Be sure to include the consequences, too, if they choose not to follow the schedule or meet expectations. For example, failure to do homework between 4 p.m. and 5 p.m. each day may result in no television for the rest of the evening. Kids who know the schedule up front are less likely to protest when you attempt to enforce it.  And you won't be as tempted to let them off the hook if you have made the consequences clear from the start.
3. Seek support. If you are co-parenting with your ex-partner, share your strategies with him or her and find out if he or she is willing to partner with you in carrying out the plan. Your kids will do much better if both parents have similar parenting strategies. Remember, divorced parents can have the same values, but may go about communicating them in different ways. So, if you can get your ex-partner to at least agree on the value system and a few of the important rules, you can be flexible with each another in the areas that are not as critical.
If you and your ex are too estranged to work together, find another adult with whom you can brainstorm when strategies are not working well. This could be a sibling, another relative or trusted friend. Enlist this person's help in assessing your values and developing a plan that works for your particular schedule and lifestyle.
4. Don't give up. Children are too precious and too impressionable to leave the parenting up to someone else (like MTV or the Internet), and your window of opportunity to make a difference gets smaller as the years go by. Commit to a plan that consistently develops trust and responsibility with your kids, and you will reap the rewards for many years to come.
Diane Chambers Shearer is a divorce mediator and parent educator in Atlanta. She is author of "Solo Parenting: Raising Strong and Happy Families" (Fairview Press, 1997) and publishes The Peaceful Co-Parent, a quarterly newsletter. Visit www.dianeshearer.com.