Columbia, SC: Big thrills for families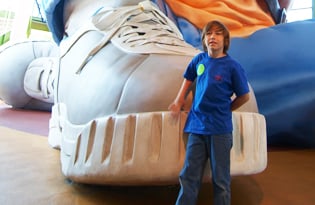 A 40-foot kid lured my family to Columbia, S.C.
The oversized child in question was "Eddie," the star attraction of EdVenture, the largest children's museum in the South. Doubling as an interactive playground, the three-story sculpture reveals the inner workings of the human body as kids climb, jump and slide through its insides.
My son, Owen, had been asking to make a pilgrimage to EdVenture since seeing a photo of "Eddie's" cavernous stomach, which is filled with furniture-sized fake food – an ice cream sandwich, a steak and even syrup-slathered pancakes. While "Eddie" was the impetus for our trip, we discovered that Columbia is chock-full of opportunities for family fun, from gaping at Civil War cannonball holes in the State House to riding rapids on the Congaree River and exploring outdoor art installations on a kid-friendly scale.
Must-see Museums
"Eddie" is the centerpiece of EdVenture, but it's just one of the hands-on exhibits, which keep grown-ups just as entertained as kids. In the "Mission Imagination" exhibit, we delivered a live newscast at the interactive television station, put out a front page in the newspaper lab and danced on an FAO Schwarz-style floor piano. In the "World of Work," Owen tested out the fire pole next to an actual firetruck before stopping by the kid-sized grocery store to ring up some plastic fruit. In the "Bodyworks" exhibit, we visited a literal skeleton-in-the-closet and played virtual volleyball against a digital opponent. After a stop at the towering outdoor playground, we walked across the parking lot to the South Carolina State Museum, housed in a turn-of-the-century textile mill. The museum's vast collection includes four floors of wonders, including real planes, trains and carriages ideal for transportation-obsessed youngsters.
A surprisingly family-friendly stop is the free tour of the copper-domed South Carolina State House. Under construction when Gen. William Sherman laid siege to Columbia in 1865, it still bears the scars of cannonball fire. Nine-year-old Owen, typically allergic to guided tours that stall his progress to anything slower than a sprint, was riveted by tales of the siege of Columbia and the history of the relics it holds.
Outdoor Art
As the seat of state government, Columbia might not be a place you'd expect to find whimsical public art, but there it is: a spurting two-story fire hydrant, a trippy mural that opens a mountain tunnel in the side of a bank, and "Neverbust," a giant chain connecting two historic buildings across an empty lot, all by the artist known as Blue Sky. The first stop on our art walk was "Tunnelvision," a 50-foot mural of mind-bending depth, in which a rocky tunnel opens to a mountain vista deep in the background. Blue Sky spent a year painting it before its unveiling in 1975. The mural garnered plenty of recognition: It appeared in People magazine in 1976, and the trompe l'oeil is so convincing that The State newspaper reported that motorists have actually tried to drive into it.
Natural Attractions
Kayaking the Congaree River, which runs through Columbia, offers a chance to test your abilities against rapids gentle enough for beginners. Adventure Carolina offers guided tours that include all of the equipment you'll need. Prices for tours start at $30 per person for a three-mile trip.
Another choice spot to enjoy Columbia's outdoors is the Riverbanks Zoo, which borders the Saluda River. It's really several attractions in one: Cross over the bridge from the zoo, and you'll find 70 acres of botanical gardens, hiking trails that border the rushing river, and the ruins of an 1830s mill with an interpretive center to learn about its history.
Just outside the city, the Congaree National Park preserves the largest remnant of old-growth flood plain forest in North America – see it from a 2.4-mile boardwalk loop or a free ranger-guided canoe trip.
Where to Stay:
The Sheraton Columbia Downtown was built as a bank in 1913; the foot-thick vault door still hangs in the lobby at the entrance to the hotel's lounge. A rooftop restaurant and bar is kid-friendly in the afternoon and early evening and offers sweeping views of the Vista, a former warehouse area near the Congaree River that's now home to 45 restaurants and 60 galleries and shops.
Where to Eat:
Columbia's burgeoning culinary scene offers everything from barbecue buffets to organic locally-roasted coffee and microbrews. For a mix of kid-friendly fare, historic surroundings and local flavor, grab lunch at Hunter Gatherer, which brews its own beer in copper tanks right inside the restaurant.
Visit http://columbiacvb.comfor more information.