Color for Kids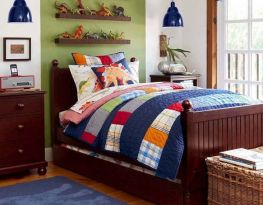 Are you thinking of redecorating your kid's room this year? Color is an important feature of any room design and a major aspect to consider. Here are some things to think about:
Blues and greens are calming and restful, which would be helpful in getting them to settle down and sleep at bedtime.
Red raises blood pressure and increases hunger. Your child may dream s/he's eating a marshmallow and wake up with the pillow gone!
Yellow is cheery and warm but can lead to feelings of frustration and anger. Expectant parents should note that babies cry more in yellow rooms. Consider this your warning!
Pink color schemes are calming and soothing. Even though now it is considered a "girl's color' it was actually the color for boys up until the 1940's, so if your son wants a pink room I  wouldn't discourage him from it.
Purple is the color of royalty and creativity. If you are going to decorate with purple, I'd suggest using the bluer purple rather than the reddish purple which can look cheap and uninviting.
Students who studied in an orange room perfomed better on tests than students who didn't, so you might want to consider orange for a study area, but it would be too stimulating for a sleeping zone.
Barbara Green believes you can have it all: kids, pets and a beautiful home. She is the owner of Sensibly Chic Designs for Life and the host of Ask the Design Diva radio show, and insists you don't have to spend a million dollars to look like you did.
Photos courtesy of PB Kids.