Color for Kids' Rooms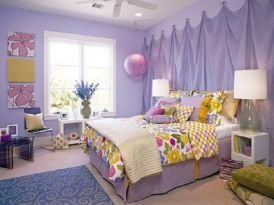 Kids are full of personality and energy and their bedrooms should reflect that. Just as every child is different, each child's bedroom should be different, too. Not to encourage stereotypes or gender identity, but rarely have I met a little girl who didn't love the color purple. It can range between a soft and sweet lavender or a bold and bright violet, depending upon your child's preference.
Green is an ideal color for a gender neutral bedroom. Green is soothing and restful, which is why it was the color of choice for insane asylums back in the day. So if your child drives you crazy, maybe that is the color for you?
An easy way to bring pattern into the room is by painting stripes. To accomplish this, simply select a base color to paint all over the room. Your next step is using painter's tape to mask off stripes. You can choose narrow stripes, wide stripes, or varying width. They can be vertical or horizontal. Paint between the taped lines and once dry, remove the tape.
Another easy paint treatment is polka dots. Just like in the stripes, paint your base coat one color. Once it is dry you can either trace circles onto the wall and paint inside free hand, or you can use a circle stencil and pounce the paint inside. Either way you have a fun and energetic look.
If you have ever caught your child drawing on the walls, you might want to consider painting a wall or four with chalkboard paint. This room was done in black chalkboard paint, but it could have been done in any color. If you want to make your own chalkboard paint, simply add 2 tablespoons of unsanded tile grout to each cup of flat latex paint and mix well with a stirrer. Yes, it IS that simple!!
Do you have any tips or tricks for adding color to kids' rooms? Please leave a comment and share with our readers. 
Barbara Green is the owner of Sensibly Chic Designs for Life and the host of Ask the Design Divaradio show. She beleives you CAN have it all: kids, pets, and a beautiful home. Stop by her showroom located at 830 Lamar Avenue in Charlotte or give her a call at 704-608-9424.