Color Class 101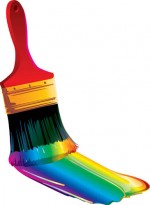 Now that the kids are back to school I thought you might like to learn something new, too. So many people are puzzled by colors,  here is a quick lesson on the Psychology of Color. Maybe it will inspire you to get the roller out and paint something!
Yellow is the color for uplifting and inquisitiveness. It stimulates the nervous system and promotes creativity. I love it for a kitchen since it helps wake you up and gets you going in the morning. I don't recommend it for nurseries since it has shown to increase crying!
Red is the perfect color to add drama or a passionate feel to a space. It is commonly used in dining rooms since it helps stimulate the appetite and encourages lively conversation.
Pink is the color of compassion, nurturing, and love. It is feminine and romantic and perfect for bathrooms because it is the most flattering shade for looking in the mirror.  
Orange is the color of warmth and happiness. Very few people have the color confidence to take the chance on it. It is great for fitness rooms and homework areas since it improves performance and studies show it enables student to better comprehend what they are learning.
Green is the color of balance and harmony. It is the most versatile color in the rainbow and can be paired with just about any other color you like. It can be refreshing, inviting, or relaxing depending on the shade you choose. 
Blue is the color of trust, honesty, and loyalty. It is perfect for a serene and peaceful room. It is the most popular color from the palest icy blue to the purple tone of periwinkle and the deep tone of navy. 
Gray is the color of compromise, since it is neither black or white. It is subdues, quiet , and reserved. For that reason it is great for nurseries, common areas, or bedrooms. 
Black gives an air of mystery and sophistication.  It is a great accent color for a feature wall, a stripe, or for trim. It will most likely overwhelm a space if all walls were painted black. 
White is the color of purity and perfection. It is a cleansing color, but too much white can make a home feel cold and uninviting.
Now that you have the basics of color psychology, will it change how you select colors for your home? Share your ideas in the comments section below.
Barbara Green is the owner of Sensibly Chic Designs for Life and host of Ask the Design Diva radio show. She believes you CAN have it all: kids, pets, and a beautiful home. Visit her showroom located at
830 Lamar Avenue in Charlotte of giver her a call at 704-608-9424
.