Classic Christmas Books for Kids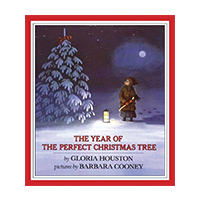 "The Year of the Perfect Christmas Tree"
I fell in love with this tale of Ruthie, her Appalachian town and the Christmas tree on Grandfather Mountain at a very young age. The irony does not escape me that I was engaged on an Appalachian Christmas tree farm last Thanksgiving, and my husband and I were married beneath Grandfather Mountain this fall. I look forward to reading this beautiful story to our (future) children for years to come.
— Susannah Carpenter, digital media manager

"A Cup of Christmas Tea"
Twenty-five years ago, a friend sent me a book called "A Cup of Christmas Tea," which I read to my family that Christmas Eve. Since receiving this gift, it's become a Christmas Eve tradition. After we brew our Christmas tea, we gather next to the tree, sip our tea and read the story out loud. It's not exactly a story about Christmas, but it's something I look forward to every year, and became even more special to me as our son got older and started asking if he could take a turn reading the story.
— Sharon Havranek, publisher

"Good Night Baby Jesus"
Barrett's grandmother gave him this book and he loves to call out the names of all the animals!
— Erin Martin, sales manager

"T'was the Night Before Christmas"
My favorite Christmas book is "T'was the Night Before Christmas." I used to sit around and read it with my parents on Christmas Eve and then got to choose one present to open that night!
— Katie Gallman, media consultant
MORE HOLIDAY BOOKS FOR KIDS

Santa is Coming to the Carolinas by Steve Smallman (Sourcebooks, $9.99) is part of the Santa is Coming series, and perfect to read to your Carolina kids this holiday season. Santa navigates his way from the North Pole to Raleigh, Charlotte, Greenville, Charleston and every Carolina city in between, touching down on landmarks such as Memorial Bell Tower is in Raleigh. Ages 4 and up.

A Bit of Applause for Mrs. Claus (Sourcebooks, $15.99) is a fun tale about the woman that makes Christmas possible as she hustles and bustles to save Christmas night. From wrapping the last presents to trimming the trees, Mrs. Claus, does it all, just in the nick of time. Beautifully and whimsically illustrated in a watercolor art. Ages 4-8.

The Night Santa Got Lost: How NORAD Saved Christmas (Regnery Kids, $14.95) begins on a blustery Christmas Eve as Santa sets off to deliver toys. The NORAD Santa tracker is following his path, but when he disappears off the radar, the resources of the U.S. Armed Forces are put to the test. The story honors the U.S. military and teaches children about teamwork. Ages 4+.