Classic Beef Stew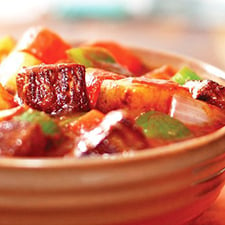 Warm up on a cold winter's night with this filling yet healthy beef stew.
Makes 8 servings

Ingredients

1 tablespoon oil
2 pounds Laura's Lean Eye of Round Roast cut into 2-inch cubes
2 cups sliced onions
4 cloves garlic, chopped
1 green bell pepper, sliced
4 large celery stalks, cut into 2-inch pieces
8 medium carrots
4 large baking potatoes (about 2 pounds) cut into eighths
1 28-ounce can whole tomatoes
1 15-ounce can tomato sauce
1 tablespoon soy sauce
1 teaspoon Worcestershire sauce
1 cup fat-free beef stock (double strength)
1 tablespoon dried basil
Salt and pepper to taste

Preparation

Preheat oven to 350°F.
Heat oil in skillet. On medium-high heat, sear meat cubes in skillet until browned on all sides.
In a separate bowl, combine canned tomatoes, tomato sauce, soy sauce, Worcestershire sauce, beef stock, basil, salt and pepper. Mix thoroughly. Pour mixture over meat and vegetables in roasting pan.
Cover and bake for 45 minutes. Reduce heat to 250°F and bake for 2 hours or until meat is very tender to the fork. Baste occasionally.
Calories:
260g
 
Total Fat:
4.5g
Cholesterol:
51mg
 
Protein:
31.9g
Carbohydrates:
26.5g
 
Sodium:
547mg

Preparation Time:
25 minutes

Cook Time:
2 hours, 45 minutes
> Back to Healthy Recipes