Cinco de Mayo Meal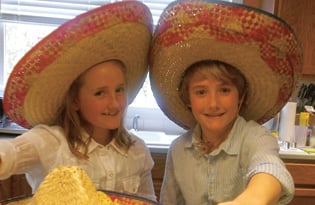 With Cinco de Mayo kicking off May, it seems appropriate to stir up some family fun in the kitchen with a Mexican family fiesta.
Using a combination of fresh fruit, tomatoes and herbs, homemade salsas are limited only by what you and your children might find at local farmers markets or in your home garden this time of year.
My favorite combo is a mango and grilled tomato salsa, made with local cilantro and homegrown jalapenos. Use your imagination to make your own variation, spicy hot or not.
Until local summer tomatoes come in, you can grill or char small grape tomatoes to bring out a fresh-as-summer flavor. To char the tomatoes, spill them out onto a grill grid and grill over a hot flame for five to six minutes. Turn the tomatoes as they start to cook and grill for another four or five minutes.
When it comes to fresh jalapenos or any other hot chili, wear rubber or latex gloves. The oil from the peppers can get on your skin and cause a burning sensation, which can easily transfer to your eyes, nose and mouth.
To reduce the spicy-hotness of jalapenos, remove the seed and stems, and roast or grill them before adding to the salsa. Canned chilies offer the mildest of heat while still providing decent flavor.
Taquitos, the fiesta's main course, are historically fried, but to make the recipe a bit healthier, bake them and serve over Spanish rice. To make taquitos, I start with local grass-fed beef from Proffitt Family Cattle Co. in Kings Mountain. Proffitt is the only certified organic, grass-fed cattle ranch in the state. Proffitt's beef is available at the Regional Yorkmont Road Farmers Market and at the Atherton market every Saturday and can be purchased at the farm store on the ranch in Kings Mountain from 2 to 7 p.m. Fridays.
For dessert: Mexican churros. These long skinny doughnuts are pan-fried and served while hot and crispy with a cinnamon-flavored chocolate dipping sauce that makes them even more fun.
For real Mexican cinnamon and Mexican cocoa, and a vast array of other freshly ground spices and dried herbs, check out the Savory Spicy Shop at the Shops at Atherton where sampling is encouraged.
Heidi Billotto is a culinary expert who offers cooking classes throughout Charlotte.
Recipes
> Mango and Charred Tomato Salsa
> Easy Cheesy Beef Taquitos
> Easy Churros 'n' Chocolate