Christmas Fun for Kids Rooms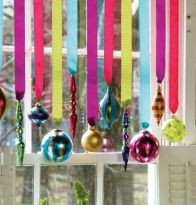 Want to do something fun and different for your children this holiday season? How about spreading the holiday cheer by decorating their room, too? It doesn't have to take a lot of time or money to make a festive addition which is sure to excite. The happy-looking window display ato the left is easy to do by simply stringing pretty ornaments onto colorful ribbons and hanging them onto a curtain rod.
Another easy addition is this Christmas tree made from a string of lights and some ribbon. If your child is young I would anchor it against the wall using Command Strips, but older children you can switch to thumbtacks. Whether using white lights or colored lights, it will cast a soft glow at bedtime and replace any night light that might be needed. 
Wall decals are popular for every room of the home, and now they even come in Christmas patterns, too. You can have a sleigh and eight reindeer cruising across your child's wall or this 40″ tall tree that your child can decorate and redecorate all month long. It is peel and stick vinyl that is repositionable, so they can move the ornaments and garland around as often as they like. 
If constant inquiries about Santa's arrival drive you nuts, this easy solution will help keep the questions at bay: Cut one inch strips from the short side of construction paper. The number of strips should equal the number of days between when you are making it and Christmas Day. Make a paper chain using a glue stick and the correct number of strips. Every night at bedtime let your child rip one of the links off. The length of the chain left will symbolize how long they have to wait for Christmas, and when there are no links left, they know the holiday is here!
Do you have any favorite ways to decorate your child's room for Christmas? I'm sure our readers would love you to share!
Barbara Green is the owner of Sensibly Chic Designs for Life, located at 830 Lamar Avenue in Charlotte. She believes you CAN have it all: kids, pets, and a beautiful home, too!