Choosing International Adoption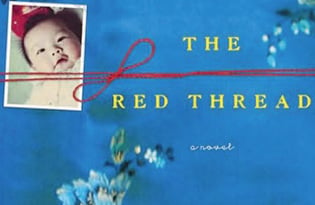 Q: The Red Thread was based on your experience adopting a child, Annabelle, from China. What circumstances brought you to the adoption agency?
A: In 2002, our 5-year-old daughter Grace died suddenly from a virulent form of strep.  We wanted very much to do something proactive to bring joy and hope back into our broken hearted household. And we wanted our son Sam to have the benefits of a sibling. These attitudes led us to the idea of adoption. At first, we talked to everyone we knew who had adopted. The world of international adoption changes, and some of those options were closed to us. In addition, domestic adoptions had age requirements that we did not meet. One day I was picking Sam up from school and watched a mother walking with her young Chinese daughter. I emailed that woman – a stranger at the time, now a friend – and she invited us over to tell us her experience. Everything just felt right. At the time, Chinese adoptions were moving quickly. We used the same agency as this woman had, and it took exactly one year from our orientation to holding Annabelle in or arms.
Q: You write in your novel "The Red Thread" that "a girl is like water you pour out." Did China's historical attitude towards girls have anything to do with your choice of adoption country?
A: In a way, yes. We were a family that needed a baby, and although it can be said that any parentless child needs a family, in China in particular these abandoned girls need families. I believe it is an act of bravery for their mothers to risk so much to leave their daughters to be brought into homes that can love them.
Q: Now that you are raising Annabelle in Providence, R.I., how much of her Chinese heritage will be present in her life? How have you incorporated her heritage into your family?
A: Annabelle is part of a program at Brown University in which Chinese students there teach language, culture, music, and history to adopted Chinese children. She attends every other Saturday. We also recently returned to China with Annabelle so that she could see the amazing culture that is hers. We took cooking lessons, visited historical sites and returned to her village.
Q: Your novel "The Knitting Circle" was about a mother coping with the loss of her child. You then wrote "Comfort," a true account of your own experience losing your daughter Grace. Have you considered writing a nonfiction work as a companion to "The Red Thread?"
A: Absolutely! I have been writing a lot about adoption in general and adoption after loss in particular.
Q: When you settle on the subject matter for your books, how do you determine whether they're going to be fictional accounts or works of nonfiction?
A: I wrote "The Knitting Circle" as fiction because the loss of Grace was still so raw that I couldn't yet write about it as nonfiction. Fiction allows distance and objectivity.
Q: The title of your book "The Red Thread" comes from the idea that people are connected by invisible red threads that strengthen over time. Are these connections present in your life?
A: I believe so. For example, Grace died on April 18; Annabelle's birthday (assigned at random by her orphanage) is April 18. I don't see these things as coincidences; rather, they remind us of our connective threads.
Q: In "The Red Thread," you write from the point of view of Chinese mothers who are giving up their children. How did you research these passages in order to make their voices sound authentic?
A: There are two wonderful nonfiction books, "The Lost Daughters of China" and "Wanting a Daughter, Needing a Son" that I read while I waited for our referral for adoption. Then last year we had an exchange student from China living with us, and I had just started "The Red Thread." She provided all the proverbs, as well as a cultural perspective. When we traveled to China to bring Annabelle home, we stayed in Hunan. I used that province in "The Red Thread" because I had visited there and seen how life was lived.
Q: What is your advice to people who are looking to adopt?
A: Adopting Annabelle has been one of the most valuable experiences of my life. At a time when I thought love had been taken from me, I was granted the opportunity to love this amazing child. I would adopt again if I could. How wonderful that our hearts can open and expand like this.