Chocolate Crinkle Cookies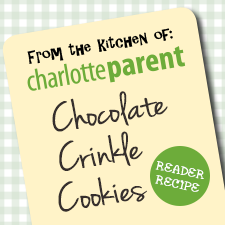 We make these every Christmas… they are easy to make and yummy!
Ingredients:
1/2 cup oil
4 1-ounce squares unsweetened chocolate, melted
2 cups sugar
4 extra large eggs
2 teaspoons vanilla extract
1/2 teaspoon salt
2 cups all-purpose flour
2 teaspoons baking powder
1 cup powdered sugar
When ready to bake, preheat oven to 350 degrees. Mix oil, chocolate and sugar. Add one egg at a time until well mixed. Add vanilla, salt, flour and baking powder. Chill overnight, or for several hours. Shape dough into balls of about one teaspoon each and roll in powdered sugar. Place dough balls approximately 2 inches apart on a well greased backing sheet. Bake 10 to 12 minutes.