Chinese Lantern Festival Lights Up Daniel Stowe Botanical Garden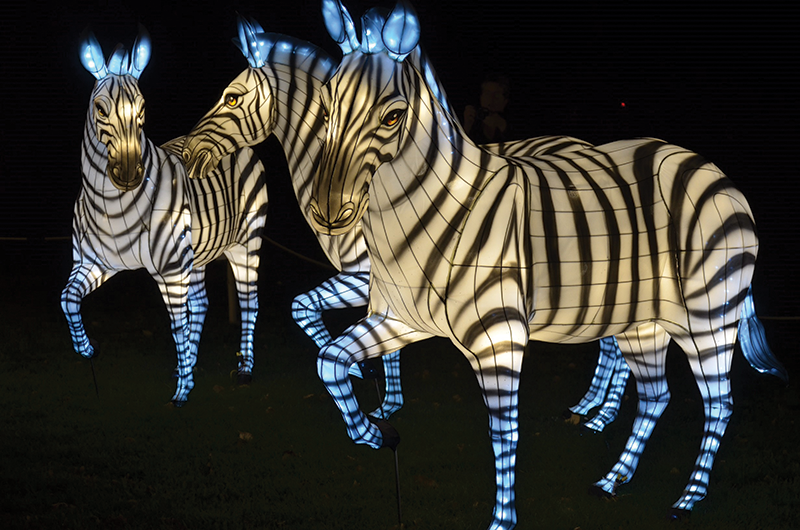 Beginning Sept. 7, Daniel Stowe Botanical Garden in Belmont will be aglow with color and light during the eight-week Chinese Lantern Festival exhibition.
Enter "The Wild," a world of life-size (sometimes larger than life) illuminated panda bears, lions, flamingoes and more fauna from the world's seven continents. Each of the lanterns is made by masters of the craft in Zigong, China's center of lantern heritage. Others are made of small glass medicine bottles filled with colored liquid. Arranged in the shape of dragons, peacocks, and giant pearls, they glimmer like crystal rainbows. It's Daniel Stowe Botanical Garden's largest exhibition to date and hundreds of lanterns will fill more than 12 acres.
---
Kung Fu demonstrations followed by a coaching session, plus Asian cuisine and a marketplace that features authentic Chinese folk art and crafts are scheduled as part of the exhibition. Food trucks will also be on site each night. Japanese maples, bamboo, grasses, ferns and traditional Asian elements, such as rock and raked sand have been added to the garden landscape to compliment the lantern festival.
As part of the Chinese Lantern Festival, a Mid-Autumn Festival is scheduled Oct. 4 from 5:30-9:30 p.m. to celebrate the full moon as part of the Chinese and Asian traditions as a way to give thanks and celebrate a successful harvest season. There will be additional games and crafts, plus mooncakes to taste and a traditional lion dance.
The Chinese Lantern Festival is open Wednesday through Sunday, Sept. 7 through Oct. 29 from 5:30-9 p.m. Advanced tickets are $21.95 for adults, $19.95 for ages 60 and older, $14.95 for ages 2-12, and free for children younger than 2. Throughout the festival, the garden remains open daily for general admission from 9 a.m.-5 p.m. with daytime entry ending at 4 p.m.