Chicken Wing Sate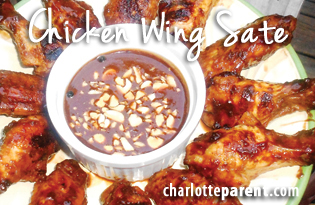 Ingredients:
20-24 chicken wings, split in half
For the marinade:
2 teaspoons garlic paste
1 tablespoon brown sugar
1/4 cup lime juice
1 tablespoon Asian fish sauce
1 tablespoon extra virgin olive oil
For the peanut sauce:
1 cup plain or crunchy peanut butter
1 tablespoon red chili flakes
Zest of one lime 
1 teaspoon cumin
1 quarter-inch slice fresh ginger root, peeled and minced
1/4 cup fish sauce
1/2 cup dark soy sauce
1/4 cup minced cilantro or 2 tablespoons dried cilantro leaves
Lemon or lime juice to taste
Directions:
Combine all marinade ingredients, pour over chicken and let stand at least 30 minutes. Remove chicken wings from marinade, pat dry and grill 5 to 6 minutes on each side until nicely browned
For the peanut sauce, combine all sauce ingredients in a saucepan and bring to a boil. Stir and serve warm with the hot sate.
> View more Family Cookout Recipes