Chicken and Spinach Calzone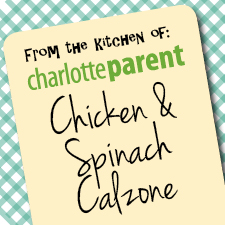 Creamy White Sauce:
2 tablespoons unsalted butter?
2 tablespoons all-purpose flour?
2 cups whole milk?Sea salt and black pepper
Pinch of freshly grated nutmeg?
1/3 cup finely grated Pecorino Romano or Parmigiano-Reggiano ?
Filling:?
3 tablespoons extra-virgin olive oil?1 small onion, chopped?
2 cups shredded spinach
2 cups chopped or shredded chicken?
1 cup of the white sauce?
1 egg?
1 cup your favorite cheese, shredded?
Salt and pepper??
To make the sauce:
Melt butter in a 1 1/2- to 2-quart heavy saucepan over moderately low heat.
Whisk flour into the melted butter and cook, whisking about 2 minutes. This is called making a roux.
Add milk; bring to a boil over high heat, whisking constantly (sauce will thicken). Reduce heat and simmer, whisking occasionally, 2 minutes; season with salt, pepper and nutmeg. Remove from heat and stir in cheese. Reserve.
For the spinach and chicken filling:
Heat oil in a large saucepan over medium heat to sauté onion, stirring occasionally, until lightly browned, about 5 minutes.
Add spinach and sauté, stirring until just wilted, about 3 minutes. Remove from heat and cool completely.
Blend a cup of the white sauce, chicken, egg and cheese with the wilted spinach. Season with salt and pepper to taste; or make it spicier with the addition of some red pepper flakes.
Roll dough out into a dinner plate-sized round. Place a generous cup or 2 of the filling in the center of the dough.
Fold the dough up and over the filling to make a half moon shape.
Crimp the edges of the dough to seal and place the stuffed calzone on a parchment paper-lined baking sheet. Bake in a preheated 475-degree oven for 8 to 10 minutes.