Chic Local Products For The Entire Family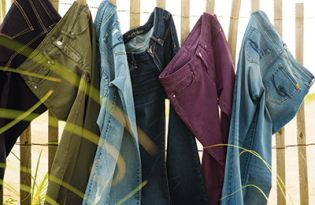 This month we bring you a sampling of stylish threads and accessories for the entire family, highlighting some of Charlotte's best in local design.
Gentlemen, and Ladies 
Belk just got a little more hip, which means Charlotte did, too. Identical twins Chip and Pepper Foster have been producing and designing quality denim for more than two decades. Their jeans have been worn by celebrities and sold around the world, so trust me on this one. The brand produces denim styles for men and women. Starting at just $68, this is one line of comfortable, cool denim you can't afford to miss.
chipandpepper.com
La Senorita Jolie Gabriella Tank Dress, $68.
Ooh, La La
Trends are definitely fun and exciting, but they aren't always practical. Finally there is a line of women's clothing dedicated to making comfortable, quality everyday pieces. T-shirts in a variety of shapes and designs, maxi-dresses and stylish sweatshirts; all sound the trumpets for La Senorita Jolie! My cut-off denim summer shorts have met their fall match with the Gabriella Racerback Maxi-Dress.
lasenoritajolie.com
Monogrammed Burp Cloth Set, $24.
Little Sercies
Local working mom and clothing designer Emily Chandler has recently introduced a new line of appliqued and monogrammed children's clothes and accessories. Called sercie by e.f. chandler co., her Etsy shop is overflowing with precious fall, winter and holiday designs.
etsy.com/shop/Sercie
Reckless Running
Get Moving
Active families, look no further than Reckless Running. The brand belongs to Davidson husband and wife duo Anthony Famiglietti, a two-time Olympian, and his wife Karen, a Parsons School of Design graduate who has worked for brands such as Rebecca Taylor, The Limited and Gwen Stefani's Lamb. Bridging the gap between competitive and everyday athletes, Reckless Running was created out of a need to provide athletic clothing that is comfortable and practical. Apparel includes racing singlets, T-shirts, sweatshirts and baby onesies all made from sustainable products.
recklessrunning.com
Green Market Girl Eco Cuffs, $30-$50.
Got Cuff?
Dilworth designer Green Market Girl makes cuffs for men and women, earrings, coasters, and wine racks. All products are made with repurposed wood. Items start at $50, and while Green Market Girl styles evolve with the current fashion trends, I know you'll find these products to be trend-setting.
greenmarketgirl.com
Whitley Adkins Hamlin keeps it stylish while being mom to two boys under age 5. Find more at thequeencitystyle.com.