Cheese Fondue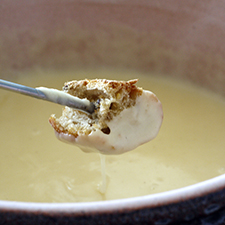 Tons of family fun is in store when a cheese fondue dinner is on the menu. Don't have a fondue pot? Don't worry — a chafing dish warmed by sterno or a candle works just as well. Either way, start by preparing  the fondue on the stovetop; then transfer the creamy cheese mix to the pot to serve warm at the table. Use long fondue forks or skewers to pierce the food and dip them in the cheese. Everybody dips into the same pot, so the challenge is in keeping your bite on  the end of your skewer. Legend has it that when anyone at the table drops a piece of food into the pot, they have to kiss the cook!
Cheese Fondue
1 cup chicken broth
1 1/4 cup heavy cream or half-and-half
1 clove  garlic, cut in half
1 tablespoon Dijon mustard
2 cups fine shredded cheddar cheese (Muenster, Monterey Jack, Colby, cheddar and your favorite Swiss cheese – or a combination of cheese also works very well)
Salt and pepper
Splash or two of Worcestershire sauce
Assortment of vegetables, bread cubes and fruit
Heat the broth with the heavy cream or half-and-half, garlic and mustard. Once the liquid comes to a simmer, remove the clove of garlic and discard.
Begin to add the cheese 1/4 cup at a time stirring with each addition.
When cheese is melted and mixture is smooth, season to taste with salt, pepper and Worcestershire sauce.
Dip in cubes of bread and an assortment of cooked but still firm veggies such as cauliflower, broccoli, small potatoes and asparagus or fruit.
Heidi Billotto is a culinary expert who hosts cooking classes throughout Charlotte. Find more at heidibillottofood.com.