Charlotte vs. Nashville: City-to-City Challenge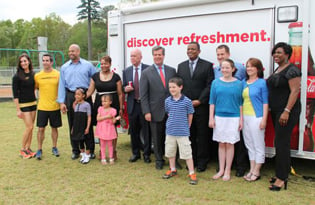 Charlotte Parent has teamed up with Nashville Parent magazine to challenge local families to get active and get healthy in the Fit Family Challenge.
Families in each city are encouraged to join the Challenge and log in daily minutes of activity. If each city reaches their goal of 200,000 minutes of activity logged by June 10, Coca-Cola will award a $10,000 grant to each city.
The mayors of each city have also signed on board. On April 15, Mayor Dean of Navhille and Mayor Foxx of Charlotte appeared at press conferences in both cities – officially kicking off the Charlotte Parent Fit Family Challenge and Nashville Parent's Fit Family Challenge, sponsored by Coca-Cola.
"As Mayor of Charlotte, I'm committed to ensuring our residents have access to healthy foods and ample opportunities to exercise so they can live healthy lives," says Charlotte Mayor Anthony Foxx. "That's why I support the Coca-Cola Fit Family Challenge and its efforts to boost awareness of the importance of eating healthy and exercising daily. Best of luck to Nashville, but no one loves a challenge more than a Charlottean, and I know our families will bring home that $10,000 grant."
"Nashville loves a good competition and the Fit Family Challenge is a fun way to encourage everyone in Nashville to adopt a healthier, more active lifestyle," says Nashville Mayor Karl Dean. "Our citizens have come out in force for our Walk 100 Miles program, our annual Mayor's Challenge 5K and Mayor's Field Day. I look forward to Nashvillians taking on this new health challenge."
After registering, families earn points based on participation for a chance to win prizes during the eight-week challenge period, April 15-June 10. Participants can also find expert advice, wellness tips and support via blogs on CharlotteParent.com and NashvilleParent.com. Both cities are also offering free fitness classes throughout the challenge period.
"Charlotte and Nashville are two of the most dynamic cities in the nation—and the largest markets Coca-Cola Consolidated has in our franchise selling territories," says Lauren Steele, senior vice president of corporate affairs at Coca-Cola Bottling Company Consolidated. "We know our consumers in these cities are up to the Coca-Cola Fit Family Challenge and we appreciate our partners at Charlotte Parent and Nashville Parent magazines and Harris Teeter for helping promote physical activity and healthy lifestyles."
Residents who participate in each city can win prizes, including YMCA memberships and a Grand Prize family trip to Universal Orlando Resort. Weekly prizes also include Harris Teeter gifts cards, bicycles and fitness equipment.