Charlotte Farmers Markets Worth a Visit
Shop fresh, local at these area markets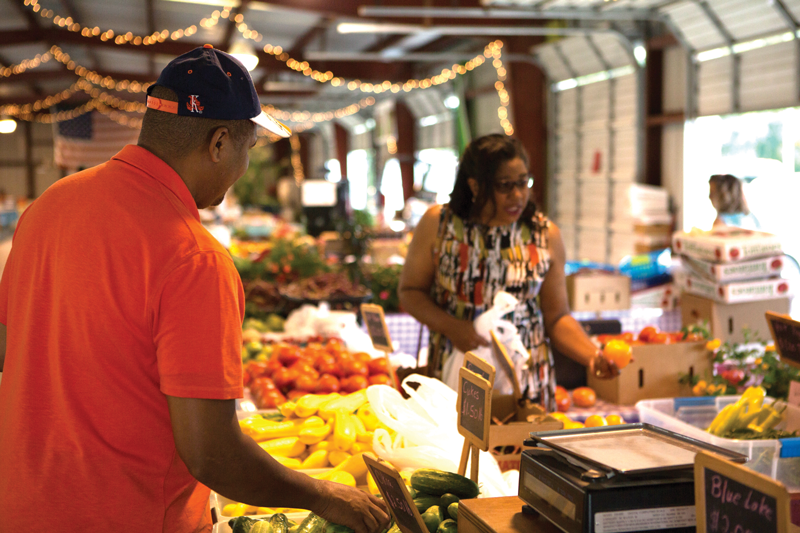 Charlotte may be a big city but that doesn't mean that residents are any less interested in eating locally grown, farm-fresh produce. While some area retailers sell locally sourced meat, produce and baked goods, families can count on any of the many local farmers markets serving the area to supply them with the season's best fruits and veggies, some year-round. In addition to providing access to locally grown and produced food, many area farmers markets offer special events geared towards families, educational programs for young children and live entertainment. With farms in every direction on the outskirts of the city, there are loads of unique offerings waiting to be discovered. Check websites for operating hours and week-to-week offerings from the farms.
The Biggies
The Charlotte Regional Farmers Market, located on Yorkmont Road, is the largest farmers market in the area and open year round. From locally raised meat, regional and unique produce, homemade breads and honey to crafts, handmade soaps, fresh flowers and plants, the Charlotte Regional Farmers Market tempts all the senses. Get a tasty treat like kettle corn, a doughnut or snowcone to enjoy while shopping.
South Charlotte is home to several farmers markets that are popular with close-by neighbors. The year-round Matthews Community Farmers Market is open each Saturday with limited hours during winter months. It is the largest producer-only market in the Charlotte area and is committed to staying local. With the exception of fish sold at the market, everything is grown or produced within 50 miles of the town of Matthews. Its location in downtown Matthews, which makes it an easy and attractive morning outing followed by lunch or exploring downtown.
The Kings Drive Farmers Market isn't as large as it is convenient for folks who live or work in neighborhoods near uptown Charlotte. The market, located on Kings Drive between Metropolitan and Atrium Health Care, offers seasonal fruits and vegetables, farm-raised eggs, meats and baked goods, plus a small nursery with plants. In the fall, pumpkins are scattered aross the lot for pick up and the market transforms into a Christmas tree lot during November and December.
Neighborhood Markets
The Cotswold Farmers Market, nestled in the heart of the Cotswold Neighborhood at 309 S. Sharon Amity Road, is open each Saturday beginning in May through the end of October, and offers a range of quality meat, fresh produce, and delicious baked goods. An on-site food truck serves breakfast and barbecue. There's also live entertainment and plenty of special events for children and families. Market patrons cite the watermelon festival, maize days, and the Halloween celebration as favorite events.
Open Saturdays, May through October, the Mint Hill Farmers Market is located within the Carl J. McEwen Historical Village in Mint Hill. Shop the wide array of local products before stepping away from the market to enjoy the many cultural and historical attractions that the Carl J. McEwen Historical Village has to offer. Have a hamburger or hotdog for lunch, both available for purchase at the market.
The goal of the Davidson Farmers Market is to "create a vibrant community gathering place with locally grown agricultural and horticultural products and family-friendly educational, musical and entertainment activities." Every Saturday throughout the year, the market does just that. Families who enjoy shopping at the Davidson Farmers Market, located at Davidson Town Hall between Main and Jackson streets, cite its small-town feel, diverse range of products and commitment to community as its biggest draws.
In West Charlotte, find a range of fruits and vegetables at the Rosa Parks Farmers Market. The goal of the Rosa Parks Farmers Market is to increase the availability of fresh, local produce for citizens on the Beatties Ford Road corridor. (With the delicious fruits, vegetables, jams, jellies and baked goods offered, it's crushing its goal). Unlike many weekend-only markets, the Rosa Parks Farmers market is open on Tuesday afternoons, June through September.
Outside Mecklenburg County
In Cabarrus County, Piedmont Farmers Market operates three locations: one in Harrisburg and two in Concord. The market features a range of vendors and artisans who give each location a distinct feel. While the Winecoff School Road location in Concord is open year-round on Saturday mornings, the other Concord location at Rotary Square and the Harrisburg location are closed during winter months. The Piedmont Farmers Market also hosts an annual spring festival that serves to bring the community together to kick-off the warmer weather.
The Gastonia Farmers Market, also known as the Dougie Henry Farmers Market, is just a stone's throw from the downtown area, making it an easy add-on activity to families looking to spend the day exploring downtown Gastonia or nearby Crowders Mountain.
Julia Pelly lives in southeast Charlotte with her husband and two young children. Find more of her work at juliapelly.com.
---
Local Farmers Markets
Charlotte Regional Farmers Market
1801 Yorkmont Road, Charlotte
Cotswold Farmers Market
309 S. Sharon Amity Road, Charlotte
Davidson Farmers Market
120 S. Main St., Davidson
Denver Farmers Market
7835 Galway Lane, Denver
Downtown Pineville Farmers Market
100 Dover St., Pineville
Gastonia Farmers Market
410 E. Long Ave, Gastonia
Huntersville Growers Market
Veteran's Park, 201 Huntersville-Concord Road, Huntersville
Kings Drive Farmers Market
938 S. Kings Drive, Charlotte
Matthews Community Farmers Market
188 N. Trade St., Matthews
Mint Hill Farmers Market
7601 Matthews-Mint Hill Road, Mint Hill
Mount Holly Farmers Market
226 S. Main St., Mount Holly
Old Town Farmers Markets
Legal Remedy Brewing Co., 129 Oakland Ave., Rock Hill, S.C.
Piedmont Farmers Market
518 Winecoff School Road, Concord
Rosa Parks Farmers Market
1600 W. Trade St., Charlotte
Union County Farmers Market
805 Skyway Drive, Monroe
Village at Robinson Farm Market
8410 Rea Road, Charlotte
Waxhaw Farmers Market
208 N. Church St., Waxhaw