Charlotte Chefs: Bourbon-Pecan Encrusted Sea Scallops with Roasted Beets and an Orange Infused Vinaigrette Arugula Salad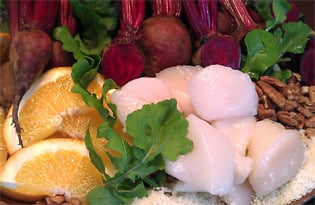 November is synonymous with giving thanks and family gatherings. When families get together in the Carolinas there is always plenty of food. This season we turned to three local culinary experts, Heidi Billotto, Carrie Hegnauer and Michael Venendaal, for their take on some new holiday fare and classic comfort foods.
These recipes add a twist to the traditional Thanksgiving menu. If someone else is cooking the turkey this holiday, then try these on a chilly November night with family or friends, and watch the smiles spread around the table.
Bourbon-Pecan Encrusted Sea Scallops with Roasted Beets and an Orange Infused Vinaigrette Arugula Salad
It's party season in Charlotte and everyone's looking for that uniquely incredible dish that elicits "oohs and aahs" from their dinner party guests. This beautifully presented Southern coastal dish will most certainly do that with its bold appearance, fresh ingredients and fabulous flavor!
This recipe, courtesy of Chef Carrie Hegnauer, makes a complete dish so there are a few steps here…right down to the beautiful, bright beet glace to help you create an impressive presentation!
Remember, timing is everything to make sure all the elements of your dish come together at the same time. Be sure you read the recipes over first and get an idea of what has to happen to accomplish this.
Roasted Beets
?Ingredients
•    1 Bunch (5-6) fresh beets
Preparation
•    Preheat oven to 425 degrees
•    Trim tips and greens from beets (you can cook the beet greens separately if you're so inclined)
•    Place in baking dish and add about 1/4 inch of water.
•    Cover tightly. Roast 45 minutes for medium sized beets
•    Reduce your oven temperature to 275 degrees for the next step
•    Allow to cool slightly so you can handle them
•    With gloves or paper towel slip the skins off the beets
•    Let them cool more and slice into 1/2 inch rounds
•    Set aside to build layered dish.
Pecan Encrusted Sea Scallops?
Ingredients
•    1 lb sea scallops (about 10 -12)
•    2 Cups pecans
•    1 Tbsp butter
•    1/4 Tsp salt
•    1/4 Tsp nutmeg
•    1/4 Tsp cayenne pepper
•    1 1/2 Ozs sweet bourbon
•    1/2 Cup all purpose flour
•    1/4 Cup panko bread crumbs
•    1 egg, beaten
•    salt & pepper to taste
Preparation
•    In a saute pan on medium heat stir butter into pecans to coat thoroughly
•    Sprinkle with salt, nutmeg and cayenne pepper. Heat until butter browns.
•    Pour bourbon over pecans (carefully if you're using a gas range!)
•    Pecans will sizzle. Reduce heat til liquid evaporates.
•    Spread pecans on a cookie sheet and bake in oven at 275 degrees for 1/2 hour
•    Allow to cool
•    With a sharp knife or food processor chop pecans into breadcrumb consistency
•    Don't turn your oven off…instead, increase the temperature to 375 degrees for the scallops
Use standard breading procedure to bread scallops:
•    Dredge dry scallops in flour seasoned with salt & pepper
•    Dip into lightly beaten egg
•    Roll in pecan and panko bread crumb mixture
•    Place on lightly oiled cookie sheet and bake at 375 degrees for 20-30 minutes.
Arugula Salad with Orange Infused Vinaigrette
Ingredients
•    1 Bunch arugula
•    1 Tsp brown mustard
•    3 Tsp Olive oil
•    1 Tbsp light brown sugar
•    1 Tbsp rice wine vinegar
•    Juice of 2 oranges
•    1 clove garlic, cut in half only
•    Salt & Pepper to taste
Preparation
•    In a small sauce pan on medium heat combine orange juice and garlic. Reduce liquid by 2/3
•    Strain out solids and reserve warm orange juice reduction
•    In a mixing bowl whisk together olive oil, rice wine vinegar, brown sugar, brown mustard and salt & pepper.
•    Add orange juice reduction to mixture and whisk together.
When you're ready to plate your dish;
•    Rinse and dry arugula and place in a small bowl
•    Drench with vinaigrette
•    Use fingers to carefully place arugula salad on top of scallop napoleon as described in "presentation" above.
Beet Glace (for plating)
Ingredients
•    Bits and tips of roasted beets (not the nice slices you're saving for the dish)
•    1/4 Cup chicken stock
•    1 Tsp fruit jam or jelly (red is best)
•    Cornstarch slurry (1 Tsp cornstarch in a little cold water)
Preparation
•    In a small sauce pan on medium heat mash beet pieces with a fork
•    Add enough chicken stock to cover and continue to mash
•    Add fruit jam to mixture and warm through
•    Transfer beet mixture to a small bowl. Make sure your sauce pan is clean and place it back on the heat
•    Using a small sieve pour beet mixture through sieve and back into the pan. You're looking for a clear, red broth with no bits or chunks of beet.
•    Bring to a simmer and stir in cornstarch slurry until it thickens.
Presentation
Begin by placing a slice of roasted beet near the center of the plate, followed by a pecan encrusted scallop. Add another beet slice, another scallop and finally a third beet slice to the stack.
Use your fingers to gently place a portion of the vinaigrette drenched arugula atop the stack.
Drizzle a small portion of the remaining vinaigrette on the plate for additional color.? Finally, add a dollop of the beet glace and drag through it with your spoon.??
Carrie Hegnauer, appears regularly on Charlotte Today and hosts a culinary classroom series on Time Warner Cable's Carolina on Demand. You can find more of her recipes on CulinaryCarrie.com.?
More Recipes from Charlotte Chefs:
> Oyster Stew
> Warm Brie en Croute with Fig Jam
> Greek-style Greens Phyllo Pie & Baked Salmon with Braised Fennel and Local Greens?

?
?