Changes to Challenge Top Students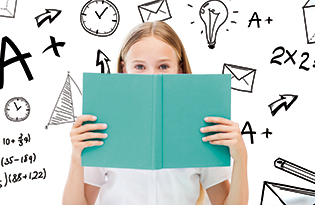 It is not uncommon for parents to feel that their academically or intellectually gifted children are being underserved by their schools. In education lingo, academically or intellectually gifted (AIG) falls under the umbrella of special education because AIG students' needs can't be met by the regular education program. Yet a school's focus is often on helping struggling students succeed while the unique needs of the top students go largely unmet. North Carolina is trying to address this problem by making changes that create more learning environments to challenge AIG students.
Beginning in 2014, middle and high school students in public schools will have the option of taking an exam and completing a project in lieu of sitting through a semester-long course. The goal of this program, called Credit by Demonstrated Mastery (CDM), is to put students who have already have a deep understanding of the basics into classes where they can focus on deeper thinking and not just additional work.
The CDM plan came not out of AIG students' needs, but out of the needs of all students. "It's important that we realize students learn at different paces," says Sneha Shah-Coltrane, director of gifted education and advanced programs at the NC Department of Instruction. "We already have differentiated learning in classrooms, but this is for the really advanced child who just 'has it.' We want to make sure his time is most effectively spent."
Charlotte-Mecklenburg Schools is making its own changes in the 2013-14 school year as well. Elementary schools in CMS will screen all second graders for eligibility into gifted programs. Children can test into the program in either math or reading, rather than the previous requirement that they must demonstrate giftedness in both subjects.
"Our goal is to meet the needs of these kids, [which includes] identifying economically disadvantaged or ESL students who aren't labeled as gifted but are," says Trinette Atri from CMS' Horizons program for highly gifted students. "We need to catch [those students] and not lose them."
Meeting Your Own Child's Needs
Joy Goforth is mom to two children in Union County Public Schools – a sixth grader who has been in AIG classes for three years and a third grader who will be tested for AIG later this year. She is receptive to new ideas for teaching gifted children. "I feel as though I've always had to fight for [my daughter]. The schools just aren't set up to support academic giftedness." However, she raises some valid questions about the changes. "Who will be doing the assessments? Is what it takes to skip a class at one school the same as what it takes at another?"
Shah-Coltrane says that each local school system determines its own way to evaluate a student's mastery of a particular course's content. The purpose of this plan is to give students and their families the opportunity to choose what is best for them long-term, which might mean quicker access to upper-level coursework.
For the area's exceptionally gifted students, the best education may be found in an alternative school setting, such as homeschool, a private school, or a public charter school. The Metrolina Regional Scholars Academy in Charlotte is exclusively for students whose IQ score is at least two standard deviations above the mean, or roughly 130 or above. The curriculum moves at an extremely accelerated rate and students finish eighth grade with some high school credits. Horizons is part of CMS and offers a very individualized and advanced program for students needing more than the regular classroom can offer.
Regardless of the state's changes or the plan for your child's individual school, you as the parent are the strongest advocate for his or her education. "Just remember," says Goforth, "nobody is going to stand up for your child like you will."
Mensa: More Than Just Academics
Charlotte/Blue Ridge Mensa is a local chapter of American Mensa, which is a part of Mensa International, the oldest and most reputable high IQ society that admits members with IQs in the top 2 percentile.
Matt Tiller began serving as the Gifted Youth Coordinator for Charlotte/Blue Ridge Mensa in August 2012. Tiller recognizes that the social aspect of raising a gifted child is just as important as the academic part is. "Children need to relate to like-minded peers, just as their parents do," he says. "Many gifted kids prefer to talk with adults instead of people their own age because their peers often don't understand them; however, they are still kids and relate to the world as such. Our group seeks to foster a community of intellectual friends in and around the Charlotte area."
"We try to plan activities once a month but the dates and events vary," says Tiller. "All of our events are open to the public, meaning neither the parent nor the child need be a Mensa member in order to participate."
Programs are offered for ages 3-17. For more information, email Matt Tiller at gyc@cbrmensa.org.
Lisa Hassell is a freelance writer and a former teacher in the Union County Public Schools. She currently stays at home with her 4-year-old son in Indian Trail.
Read more from the 2013-14 Education Guide: 


View all articles