Centsible Seasonal Fun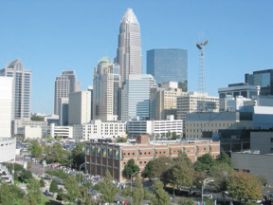 Having fun this time of year doesn't have to mean dressing up in your fanciest clothes and spending a lot of money on a fancy show or an extravagant meal. Kids don't like all the fuss anyway, so why not opt for activities that cost little or next to nothing — and delight the kids just the same (if not more!).
Save the pennies in your wallet this holiday season, and instead indulge the senses with these picks for family fun.
Boogie with the Bears, Twirl on the Ice
There's nothing like the magic of a big city decorated with lights for the holidays. Uptown Charlotte has its own brand of magic this time of year, and families can experience the fun without busting the budget you've set aside for holiday gifts. Take an old-fashioned trolley ride one weekend afternoon, and check out the city when it's not bustling with bankers and other business folks.
Park your car in the historic South End and catch a ride on the Charlotte Trolley to the center city. The trolley operates Saturday, 10 a.m.-5 p.m., and Sunday, 10:30 a.m.-5:30 p.m. Parking is free at the Atherton Mill station. Bring cash and exact change to purchase tickets on board the trolley; roundtrip tickets for adults are $2.60 and for children K-12 are $1.30. Children ages 5 and younger are free. Also, CATS weekly and monthly passes, as well as LYNX tickets, are valid to ride the trolley. (Be sure to ask the conductor for a transfer ticket because you'll be making several stops before returning to the station). For more information, visit www.charmeck.org/Departments/CATS/LYNX/Trolley+Fares.htm.
Take the trolley to East Trade Street and then walk two blocks west until you reach North Tryon Street. Turn right at the corner and head straight for Founder's Hall. The Leonard Bearstein Orchestra performs holiday classics every hour on the weekends, 8 a.m.-6 p.m. All performances are free.
After the show, get back on the trolley and head to the Convention Center stop. Across the street at The Green, you may find yourself reminded of the skaters at Rockefeller Center in New York City. Charlotte's own WBT News Talk operates the area's only outdoor ice skating rink called "Holiday on Ice" for the season through Jan. 10.
The Green's park-like setting offers many places to sit and watch all the action. Dig into the snacks you brought along for the afternoon and enjoy watching the skaters spin and twirl wearing their colorful hats and scarves. Watch your time and be sure to hop back on the trolley before it picks up its last riders for the day before it heads back to the station.
Upgrade your experience: After the Leonard Bearstein show, sit down for an affordable lunch at Showmars (101 N. Tryon St.) before heading to the Convention Center. And, instead of just watching the ice skating, join in on the fun. Adults and children can skate for $10 (includes skate rental), but if you just want to watch your kids have all the fun from the warmth of the "comfort zone," pay just $7 per person. For information on hours, visit www.wbtholidayonice.com.
Escape to a Winter Wonderland
Take a break from the hustle and bustle of holiday shopping at the mall on a Saturday morning, and take the kids to the Blacklion flagship store in Charlotte (10605 Park Road near N.C. 51, 704-541-1148). Owner Bob Emory has created a free extravaganza reminiscent of the many beautifully decorated store windows in New York City in the store's events center and garden center.
To get there, take I-485 to N.C. 51/Pineville-Matthews Road (exit 64) and head east, the opposite direction from Carolina Place Mall. Turn left on Park Road and Blacklion is on the right. Families can walk a winter snowy trail that leads them through magical scenes of holiday characters. The 5,000-square-foot space features falling snow, miniature trains, antique automobiles driven by whimsical characters, a 30-foot miniature animated Christmas village, a large Byers' Choice Ltd. Victorian carolers scene and more. Children also can enjoy holiday activities, stories and movies, as well as hot cider and cookies. Frosty the Snowman and Rudolph the Reindeer visit from time to time, and live entertainment is provided by Dickens carolers, church choirs and brass bands. At the top of each hour, The Not So Bearly Singers, an animated bear quartet, perform. Santa Claus arrives every Saturday at 1 p.m. through Dec. 24; Blacklion provides free photos with Santa.
Blacklion's Holiday Winter Wonderland is open store hours seven days a week (Monday-Saturday, 10 a.m.-6 p.m., and Sunday, 1-6 p.m.).
Upgrade your experience: Satisfy everyone's appetite with a quick lunch at CiCi's Pizza (10707 Park Road, 704-341-9303) around 11:30 a.m. The restaurant and the store are in the same shopping center across from Carolinas Medical Center-Pineville. Then, walk to Blacklion and spend 30 minutes to an hour enjoying the winter wonderland and visiting with Santa. If your children aren't too tired and you need a unique or whimsical tree ornament for a gift exchange or your child's teacher, browse the aisles of the store before heading home.
Oooh and Ahhh at the Lights
On any given evening after dinner, pack up some cookies and a thermos of hot chocolate, and load the kids in the car for a road trip south on Interstate 85 to Christmas Town U.S.A. Since 1956, the small town of McAdenville (about 16 miles south of Charlotte) has been wowing visitors with its December display of colorful lights. More and more cars line up every evening until Dec. 26 to drive through the town and marvel at the illuminated trees, homes and businesses. This year, more than 450,000 red, green and white lights will be displayed on some 375 live trees and 200 wreaths.
You can meander slowly through the town by car (about 20-30 minutes) — be sure to roll down the windows to listen to the music — or park and walk along the streets with the littlest ones in a stroller. A favorite spot for many viewers is the lake near the center of town; some 30 lighted trees, ranging in height from 12 feet to 40 feet, circle the lake.
On Friday, Dec. 19, at 5:30 p.m., a Yule Log Parade through town shuts down vehicle traffic for about an hour. Either go early, park and participate as a pedestrian in the parade, or consider arriving by car after 6:30 p.m.
To get to McAdenville, take I-85 south to exit 27 (Belmont/Mt. Holly) and head west on U.S. 74/29, which is also Wilkinson Boulevard in Charlotte. Turn right on Wesleyan Drive and begin the illuminated tour through McAdenville. You will end up leaving town via Main Street, which intersects with I-85 at exit 23. Turn right to get onto the interstate and head north to get back to Charlotte.
Upgrade your experience: Leave home a bit earlier and catch dinner on the way. At the intersection of U.S. 74/29 and Wesleyan Drive, turn left (instead of right to go into McAdenville) and there are several restaurants in the Food Lion shopping center on Market Street that local residents tout as good and inexpensive. If you're in the mood for Chinese, try Asian Garden (704-824-8318), which offers a kids' menu. Georgio's (704-824-2220) offers Italian and American home-cooked cuisine and a kids' menu, plus nightly dinner specials are $7.25. Also, Market Street Pizza (704-823-0010) offers an all-you-can-eat buffet, which is $5.69 for adults and $3.29 for children. There's also a kids' menu.
Delight in a Show of Snow
Is your family lamenting the Piedmont's moderate temperatures and wishing for just a few flakes of snow to frolic in? An adventure awaits at Birkdale Village in Huntersville, where the popular outdoor courtyard is transformed into a winter wonderland on weekend nights through Dec. 24. "Snow showers," produced by special-effects machines, begin at the start of each hour and generally last about 15 minutes. Here's an itinerary for some Sunday afternoon fun that includes a movie chock full of snowy images, dinner where the kids can eat free and a snow shower in the middle of an outdoor shopping center!
On Dec. 21, attend a free screening of "The Polar Express" (rated G) at 2 p.m. at North County Regional Library (16500 Holly Crest Lane off N.D. 21/Statesville Road, 704-416-6000) just off I-77 at exit 25. After the movie, enjoy a delicious Mexican meal at Zapata's Cantina Mexican Restaurant in Cornelius (19905 W. Catawba Ave., 704-987-8890), where kids 12 and younger can eat for free on Sundays. Take N.C. 73/Sam Furr Road west over I-77 and past Birkdale. Turn right onto Catawba Avenue and drive about 2.9 miles; Zapata's is on the left.
After dinner, turn right out of Zapata's and drive back to Birkdale Village in Huntersville (be sure to turn left at the traffic light at N.C. 73/Sam Furr Road), and watch the children dance in the snow. Enjoy a cup of hot cocoa, and perhaps do a little window shopping up and down the main street. Parking is free throughout the shopping village. Barnes & Noble is open until 9 p.m. on Sunday nights, so stop in to warm up and read the children a story before heading home.
Upgrade your experience: Go straight to Birkdale Village after the movie and grab dinner at one of the shopping area's restaurants. For family friendly dining, there's Brixx Pizza, Fox & Hound, Qdoba Mexican Grill and Quiznos. After dinner and before the children get caught up in the fun of the snow showers, be sure to stop in at Starbucks adjacent to the courtyard and grab coffee.
Lee McCracken and Renee Roberson are both associate editors with Charlotte Parentmagazine.