Celebrate Black History Month at the Harvey B. Gantt Center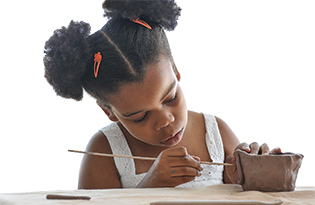 A family outing to the Harvey B. Gantt Center for African-American Arts + Culture at the Levine Center for the Arts is a perfect way for your family to celebrate Black History Month. Named for Charlotte's first African-American mayor, the museum upholds a mission to present, preserve and celebrate excellence in the art, history and culture of African-Americans and those of African descent. The 46,500-square-foot Gantt Center is located in an area of uptown Charlotte once occupied by the historic Brooklyn neighborhood, a thriving center of the black community that was razed in the 1960s.
If you go, enter from the street level and purchase tickets inside the gift shop, which sells a collection of artwork, magnets, home décor and T-shirts. The museum offers three galleries: one on the second level and two on the third level. Each is well lit, quiet and calming. Benches and chairs encourage visitors to take time to study a piece. Photography of the artwork is not allowed, but you can take a picture in the lobby of the Afro-American Cultural Center replica built entirely of Lego blocks!
A Kindergartener's Perspective
My 5-year-old son and I spent a winter afternoon at the museum and had a wonderful time. I knew this experience would be different than the hands-on, play-based museums my little one is accustomed to, so I prepped him by telling him we were visiting an art museum. I told him we would be special reporters looking at everything with our eyes and trying to imagine what the artist was thinking when he or she made a piece. His job was to look at every piece in a room and report back to me about which was his favorite and why.
I spoke freely to my son about each painting, photograph or sculpture, discussing how beautiful a painter made a subject's eyes or how different colors made me feel. We talked about what we thought was happening in each picture and looked at the individual brush strokes on a canvas. I also showed him how to identify when a work was created and what the artist had named it. He declared his favorite to be "Waiting," a black-and-white sketch of a forlorn-looking girl standing behind a barbed-wire fence. I was surprised, but enjoyed his explanation as to why he liked that piece. We truly spent quality time together as we shared our thoughts about some great works of art.
Family Learning Experiences
The Gantt Center hosts its Family First series the first Saturday of each month for families with children ages 5-10. Activities may include a children's book reading, an art project that ties to an exhibit, dancing, drumming or singing.
Beginning in March, the museum will host a Junior Studio workshop for children ages 8-12 to encourage creativity and an interest in contemporary art. Parents and children get the opportunity to discuss works on display and explore processes and techniques in making art. Contact the museum for dates and times.
Plan Your Visit
Beginning in February, galleries at the museum will be filled with a new exhibit titled "Venturing Out of the Heart of Darkness," which includes works by national and international artists. The exhibit examines how colonialism has impacted prevailing attitudes that define black culture in America today. The community opening is Feb. 7, 11 a.m.-3 p.m., and includes the Family First open studio drop-in workshop: Assemblage. Exhibit artists Renee Stout, Willie Cole and Sean Johnson will be there to inspire participants as they create a work of art out of found objects. Museum admission is $5 during this special event.
Lisa Hassell is a local elementary school teacher and mom to a busy and curious kindergartener. She resides in Union County.