Carrots, Zucchini and Yellow Squash in Red Curry Butter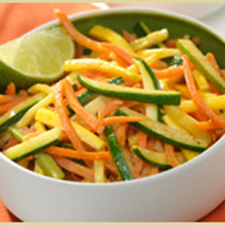 Serve this tasty veggie concoction over rice for a healthy lunchtime meal.
Servings: 4
Ingredients:
8 tablespoons butter, divided
1 teaspoon red curry paste
1 clove garlic, minced
1 1/3 cups julienned carrots
1 1/3 cups julienned zucchini
1 1/3 cups julienned yellow squash
1 lime, halved
Salt and pepper to taste
Cooking Directions:
Melt 2 tablespoons butter in medium skillet over medium heat. Add red curry paste and garlic; mix well and sauté until fragrant, 1 to 2 minutes. Add vegetables and sauté until crisp tender, about 7 to 8 minutes. Slice remaining butter into tablespoon-size pieces, add to pan and stir until melted. Squeeze juice from lime halves over vegetables. Salt and pepper to taste.
> Back to Healthy Recipes