Carolina Family Travel Photo Contest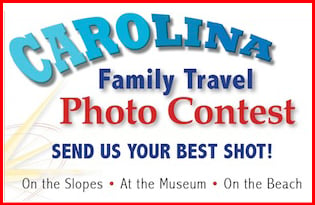 SEND US YOUR BEST SHOT
Family vacation photos are priceless. From Dad on the ski slopes to babies on the beach to beautiful sunsets and the kids at historic landmarks, we want to see your favorite family travel photo. Deadline May 31, 2011!
Win the Mountain to Sea Getaway courtesy of Crystal Coast and Chetola Resort.
Get Published!
Email pics to photos@carolinaparentingnc.com!
Prizes? Ten photo finalists will be selected in early June. Readers will be asked to select the final Grand Prize Winner via voting. A Grand Prize Winner will receive a Mountains to the Sea Getaway for a family of four! This includes a weekend at Crystal Coast's Atlantis Lodge with dinner at Circa 81, PLUS a weekend in Blowing Rock with a 2-bedroom condominium at Chetola Resort. (Total grand prize value over $1,000.) Prizes will be awarded to all photo finalists. Prizes include beach bags, travel toys for kids, zoo, aquarium and museum family memberships, travel backpacks, family CDs, DVDs and much more!
How to enter? Email your vacation photo! Include Photo Title, brief description of location and subjects, your name, city, state and zip.
When to enter? Photo deadline May 31!  Finalists voting June 30.
How to win? Email your photo. Get online and vote by "commenting" in any of the photo galleries listed below. Vote daily and encourage your friends, too. The top 10 most popular photos (most online votes) will receive prizes and be included in a special digital edition of the new Carolinas Family Travel Guide! PLUS, we'll send the final photos to more than 3,000 Carolina parents and families for a final vote. Winners will be announced July 15. Winning photo in August issue!
YOU – Carolina families and our readers –  from the Triad to Charlotte-Metro to the Triangle will pick the winning family travel photo! And just by voting, you could be a winner too!
View all entries and comment on your favorite photos in these online photo galleries…
Rules and Guidelines
• One photo entry per family.  Email to photos@carolinaparentinginc.com
• Photos must be received via email on or before May 31, 2011 at midnight.
• Entries must include Photo Title, Description of Location and Subjects — plus Your Name, City, State and Zip.
• Contest limited to residents of North Carolina and South Carolina.
• Photos will be displayed on the websites as listed above in photo galleries
• Winners determined by popular vote (via commenting in photo gallery) with consideration for photo quality and reproduction value.
• Ten photo finalists will be selected from the qualified entries for final voting.
• All ten photos will be displayed in the Carolina Family Travel Guide – digital edition – from June 2011 – April 2012.
• Finalists photos (10) will be eligible for prizes including a grand prize "Mountains to the Sea" getaway for a family of four (4) to the Chetola Lodge in Blowing Rock, NC – plus – the Crystal Coast's Atlantis Lodge!
• All photos will be the property of Carolina Parenting Inc.(CPI)
• By submitting photos (photos) or written materials for this contest, you certify and wholly acknolwedge ownership and that you have the sole and exclusive right to permit CarolinaParenting Inc (CPI) and its publications to use, edit, publish and otherwise utilze your name and your photo without obligation or liability to you or any party whatsoever.
• You grant non-exclusive, irrevocable and unconditioanl rights to publish, relate and utilize  in such manner as CPI shall elect, in whole or in part, on our websites and in print and electronic form without compensation.
For more information, or assistance contact photos@carolinaparentinginc.com with your questions! Someone will respond to your email within 72 hours!