Can the Wind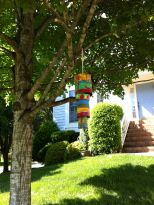 Do you remember the Zans for Cans, from One Fish, Two Fish, Red Fish, Blue Fish? It was a monster that opens cans…so if you have a lot of cans, you should have a Zans for Cans.  According to the good Dr. Seuss.
We do not have a Zans, so we needed something else to do with cans.
This wind chime project looked promising.
We used four cans that fit inside one another, from tomato paste to a medium sized crushed tomato can. Any sizes and number of cans would work, as long as they are progressively larger.
The project is very simple, but it is a two-day project. On the first day decorate the cans with anything weatherproof. We used acrylic paint and then sprayed the dry paint with a clear gloss.
The next day, after the cans were completely dry, I drilled a hole in the center of the bottom of each can, and Amelia strung the cans from largest to smallest. In between each can, we tied a knot in the string to keep the can from slipping.  This was a little tricky when a tall can followed a short one, because there isn't much space between the knots, but it was possible to do. Try to space the cans so each can is slightly inside the next larger size, so when the wind blows they will jangle together. Or, if your neighbors prefer quieter windchimes, space them further apart and they'll still blow around and look great without the clanging
You can finish the bottom of the string with almost anything – a bell, a small ball, ring, or just a knot.
Looking for more Mess?  Visit Melanie's blog, or drop by her Etsy store, Made by Mommy!