Camp Tips and Tidbits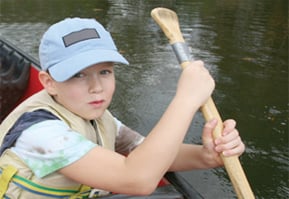 Camp Help Just a Click Away
When it's time to stock up on stuff for camp — from sleeping bags to bunk games to goodies for care packages — be sure to check out these Web sites:
www.campstuff4less.com
www.campersmall.com
www.campbound.com
www.camppacs.com
www.gilbin.com
Teens Cash in as Counselors
Students all across the Charlotte area are discovering they can earn much more than cash as a camp counselor — they can obtain resume-building experience or even academic credit.
In today's world, a college degree and an internship or two are necessary to land the perfect job. While some internships may just result in filling the boss's coffee, more than 2,400 American Camp Association (ACA)-Accredited® camps across the country are hiring right now.
A camp job or internship provides students with the opportunity to gain resume-building skills, while working with children in the great outdoors.
Appalachian State University in Boone is hosting an Outdoor Jobs Fair on Saturday, Feb. 26, from 10 a.m. to 2 p.m. in the Plemmons Student Union building. For more information, visit www.camps.appstate.edu or call 828-262-2540.
—American Camp Association
Get Kids Psyched for Camp
PBSKids.org recommends these stories to help get your child excited about camp if this year will be her first sleep-away experience.
"Agnes Parker … Happy Camper?" by Kathleen O'Dell — At science camp for the summer, Agnes is matched with ill-tempered bunkmate Nyssa, while Agnes' friend Prejean ends up in another cabin … and on the other side of a camp rivalry. Soon a series of escalating pranks begins. Will the two friends make up, or are they doomed to be camp enemies?
"Jenna's Dilemma (Camp Confidential)," by Melissa J. Morgan — Jenna Bloom has been doing the whole camp thing for three years, but her identity as a practical joker is starting to wear thin. Can she figure herself — and her relationship with her camper siblings — out?
"Letters from Camp," by Kate Klise — The Harmony Family Singers, who run Camp Happy Harmony, turn quarrelling brothers and sisters into happy sibs. But as a group of young campers soon discover, these singers are hiding a few secrets of their own.
Must-Haves for Camp
Be sure to check out these products before sending your child off to camp for a week or more.
Stuck On You Labels are simple to sew or iron on kids T-shirts and shorts, so campers won't arrive home with half their stuff. The bright and easy-to-read labels have fun icons and stay put in the washing machine. A set of 50 labels is $18.95 at www.stuckonyou.biz.
Live From Camp Stationery features six colorful fill-in-the-blank style letters and envelopes, stickers, four postcards and a pen. All a parent has to do is put the stamps on ahead of time and then wait by the mailbox. The set is $8.95 at www.funcampstuff.com.
Lee McCracken is an associate editor at Charlotte Parent magazine.