Camp 101: What to Know Before They Go
10 real conversations to have with your child before they leave for summer camp.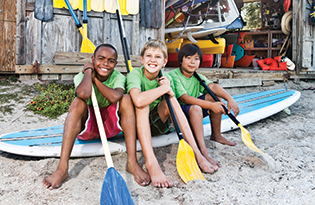 Going away to summer camp for the first time is a rite of passage for your child and for you. Getting ready for this adventure together means having real conversations about what to expect.
---
1. Camp Choices
Start the camp conversation with your child before choosing a camp. Talk to your child about what type of camp experience he or she wants and is ready for.
Katie Johnson, executive director for the Southeast Field Office of the American Camp Association, suggests asking children what camp activities they most look forward to and use this as a guide when looking at possible camps.
Parents should also respect their children's feelings about readiness for overnight camp, says Johnson. In addition to the many day camps that are available, overnight camps often offer mini-sessions to help children step into a full sleep-away experience.
For children who want an overnight experience but are still nervous, consider having your child attend the same camp session that close friends plan to attend, says Jen de Ridder, the director for the YMCA Camp Hanes in King. "Going to camp with a friend can be a real confidence booster, especially for the first time."
Research possible camps and narrow your choices down to two or three, says Robert Danos, the assistant director for Camp Mondamin in Tuxedo. Then, let your child make the final choice. "That can work well for a child who needs to 'buy in' to the idea," he says.
---
2. Talk up the fun
Once you choose a camp and register your child, prepare him or her for the experience by first stoking the excitement. Build confidence by focusing on the fun things their children will be doing at camp.
Keep a positive tone. "Talk about the friends they will make, the skills they will develop, and even share some of our own positive camp experiences," says Brian Hollingsworth, director of Oak Hill in Oxford.
He cautions parents, however, to pace themselves. "You don't want to overload them with information or too many expectations," he says. "Just keep the topic fresh and alive over time."
---
3. Daily Routines
Parents should carefully review handbooks and other information the camp sends so they can pass along relevant and accurate information to their children about day-to-day life at camp, says Johnson.
She suggests discussing how the camp routine will differ from home. "Gradually introduce this information during daily routines."
Explain tasks such as making beds, packing trunks and tidying up, and how all of these things are important in a shared space. Also discuss bathroom procedures such as what items your child should take to the bathhouse and what to do if she needs to go to the bathroom at night.
Meals at camp are often served family style with everyone sitting down around the table and pitching in to clean up. During meals at home, prepare the kids for camp eating by emphasizing healthy food choices, table manners and cleaning up after oneself.
---
4. Medical Procedure
If your child takes daily medication, be sure to discuss this with the camp director and staff in advance, and prepare your child for the camp's medication procedure. Also find out what your child should do if he or she is not feeling well.
---
5. Lights out
Once the flurry of daily activities is over and the fire dies down, lights out can be the most difficult time for children while at camp. Visit the camp beforehand to familiarize your child with sleeping quarters. Also give your child strategies for falling asleep such as relaxing by deep breathing or visualizing themselves in a favorite spot.
Many city children go to camp unprepared for the total darkness of no streetlights. Tell them about this but allay fears by buying a special camp flashlight and practice using it in the dark. Prepare your child as well for the symphony of insect sounds that can be heard on a country night.
---
6. Making Friends
Give children behavioral guidelines about how they should treat others and be a friend to their camp mates, says Hollingsworth. "Relationships are the heart of every camp experience."
He also advises talking with your child about the strengths and abilities they bring to the group. "They can make the camp experience even better through their actions, gifts and talents," he says.
Parents should also prepare their children for the diversity they are likely to experience at camp. "They will need to learn to get along with a wide variety of people," says de Ridder. Teach them to make new friends by asking about others interests and being a good listener. Friends made at camp are often friends for life.
---
7. The Great Outdoors
Much of the fun of summer camp involves being outside. Teach your child to protect herself from the elements.
Sunscreen is a must. Come up with a plan for when and how to apply it. Your child will want to ask a friend or counselor to help cover unreachable spots. Some children, especially boys, object to having others touch them to apply sunscreen. If you know this will be a problem for your child, send spray sunscreen, which is worth the extra expense to prevent a painful burn.
Also make sure children have basic outdoor training. Point out or show pictures of poisonous plants such as poison ivy and poison oak and teach the rhyme, "leaves of three, let it be." And to avoid getting lost on outings, emphasize the importance of staying with the group.
---
8. Pining for Home
Most children who go away to camp feel homesick at some point. Don't dwell on it, but let your child know what homesickness feels like. Explain that they may feel lonely or even have a stomach ache. Let your child know it's normal.
Being homesick is a good sign, says de Ridder. "That just means you love your family and love your life."
Reassure your child that as they get involved in camp activities, these feelings will pass.
Parents should understand how their child's camp handles homesickness. Once you know that procedure, you can tell your child what to do if these feelings become a problem.
Danos warns parents not to give their child an "out'' after some artificial number of days if he is still missing home. "It is key for parents to let their child know that they are committed to the full session," he says.
---
9. Checking in
Promise to write to your child at camp and follow through, but don't promise more communication than the camp allows. Some parents sometimes have trouble accepting not being able to communicate with their children more, and send cell phones or expect daily email communication. De Ridder believes parents should embrace the independence fostered by the camp experience and not create unrealistic expectations for their children.
"Tell your child how excited you are about all the fun they will have and that you want to hear all about it when they get home."
---
10. Open Communication
Listen to what your child has to say about their summer camp hopes and fears. Encourage excitement and talk through concerns.
Let campers personally email or call camp directors with any questions, which helps the child start to take responsibility for the camp experience, suggests Danos.
It is also important to attend tours and any open houses offered by the camp your child will attend. Doing so will give you both a better context for discussing the upcoming camp experience.
"Visiting ahead of time allows children to see the cabins and learn where the bath house is. That way parents and children have a visual," says Johnson.
Talking to your child about going away to camp will help to prepare you as well. Parents often have mixed feelings about their children leaving the nest. Emphasize the positive to your children, and know that you are giving our child a wonderful experience full of fun, new friends and opportunities to learn self-reliance.
---
Jan Wharton is a freelance writer and mother of three from Winston-Salem.