Bursting Our Bubble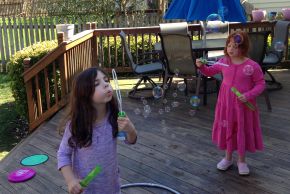 Folks, don't try this one at home. In fact, don't try it anywhere. Just don't bother.
I love bubbles. You're never too old for them. Amelia and her buddy played with good old fashioned bubbles for almost an hour a few weeks ago. We made solution with dish detergent, water, and a drop of glycerin (makes them stronger). They blew bubbles with badminton rackets, tubes, and a loop made from yarn threaded through straw handles. They discovered that if your hands are wet enough, you can touch – even put your hands right through! – a bubble. I thought bubbles were foolproof.
And then my mother sent me this:
One of my very first Pinterest-inspired projects involved opening up glow sticks, and I ended up with fluorescent lips. I should have known better than to go there again. But on a beautiful, dark weekend evening, there we went.

IT DOES NOT WORK! We really wanted to see glowing bubbles, we even caught drops of glowing solution right on the bubble wand, but our bubbles did not glow. They really didn't. If you still need to try it for yourself, here are a few lessons we learned:
If you must open glow sticks, do this outside and point them away from people. They splatter. Do this whole project outdoors, at night, so you can see where it splatters.
Be warned, there is glass. Glow sticks have a tiny glass tube inside to contain the glowing stuff. That cracking sound you hear when you activate a stick is the breaking glass. The solution really doesn't "pour" either – it splatters, and then it drips.
Put the bubble solution in a clear container.  If you manage to get any of the glow stick liquid into it, the solution will glow. This is the coolest part of the whole thing.
That's all, go ahead and blow bubbles. They're still bubbles, and bubbles at night are extra cool even if they don't glow. And if yours should happen to glow please leave a comment and tell me what you did…maybe we'll try one more time. At your house.
Want more Mess? Visit Melanie's personal blog, or drop by her Etsy store, Made by Mommy!