Burn Off That Burger at Local Greenways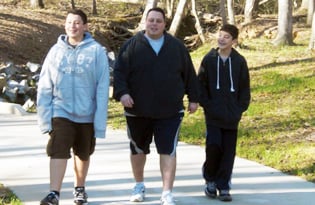 With more than 35 miles of developed greenways, it's easy for families to get some exercise and enjoy natural habitats in and around the Queen City. Why not burn some calories with the family biking, hiking or pushing a stroller along one of Mecklenburg County's greenways.
Here we share three different Charlotte Parent staffers' greenway excursions. Each chose a different greenway and a different mode of transportation to explore with his or her family. And while we were at it, we decided to tally up the calories each person burned. You might be surprised at the numbers!
Ride a Bike
Where: Four Mile Creek Greenway, Rea Road.
Starting point: Rea Road and Bevington Place (near Trader Joe's at Shops at Piper Glen).
Route: From Rea Road entrance to turnaround point, just past the Johnston Road parking area, and back.
Distance: 3.85 miles; approximately 45 minutes.
Parking: Parking on street.
Bathrooms: At Trader Joe's or other stores at Shops at Piper Glen.
This horseshoe-shaped greenway runs 5.8 miles through south Charlotte, connects to the Lower McAlpine Creek and McMullen Creek greenways, and eventually passes under Interstate 485.
This greenway is popular with kids because there is so much nature to see, making it tempting to stop along the way to check out the scenery. The series of bridges and boardwalks dominate the first half of the greenway, with circular viewing areas that stretch over the water where you'll find environmental information boards for the kids to read, and even a birdhouse or two. Turtles, ducks and croaking frogs keep kids interested. You'll find plenty of families walking or pushing strollers and older kids riding along on scooters or bikes. There is plenty of street-parking most days. At the end of your journey, stop at Yoforia or Starbucks, located at the Shops at Piper Glen, for a treat.
— Eve White
Calories burned: 103 (= half of a Crunchy Taco Supreme from Taco Bell).
Go for a Stroll
Where: Little Sugar Creek Greenway.
Starting point: Behind Metropolitan on Kings Drive.
Route: From Metropolitan, along Kings Drive, by Carolinas Medical Center to Freedom Park and back.
Mode of transportation: Walk with a stroller.
Distance: 3.3 miles; approximately one hour.
Parking: Metropolitan deck at the corner of South Kings Drive and Charlottetowne Avenue, or Pearle Street Park on Kenilworth Avenue.
Bathrooms: Available at Trader Joe's, at kiosk along greenway, in the lobby at Carolinas Medical Center or at Freedom Park.
This paved greenway, part of the Carolina Thread Trail, follows along Little Sugar Creek and features great views of the uptown skyline. It is good for bicycling, in-line skating, pushing a stroller or riding a scooter. Some points along the greenway feel narrow when bike riders pass by, so listen for bells or whistles alerting you that they are coming around.
The kids can enjoy seeing ducks swimming in the creek and tossing coins in the big central fountain. Once you reach Freedom Park, take a break at the playground or bring a basketball and shoot some hoops before heading back.
During the summer, stop by Lulu's on The Greenway for a quick bite or an ice-cream treat, and eat al fresco at the cafe tables stationed by the kiosk restaurant. There are also bocce courts along the Kings Drive section, but because this is so close to the road, it's recommended for families with big kids, tweens and teens.
— Michele Huggins
Calories burned: 252 (= one Everything Bagel – no cream cheese – from Einstein Bros Bagels).
Take a Hike
Where: Four Mile Creek Greenway, Matthews.
Starting point: South Trade Street entrance.
Route: From South Trade Street entrance to East John Street, then side trail to Bremont Lane and back.
Mode of transportation: Walk.
Distance: Four miles; approximately 1.5 hours.
Parking: Parking lot at Squirrel Lake Park. Parking for other entrance points available along the streets in neighborhoods.
Bathrooms: Available at Squirrel Lake Park.
Four Mile Creek Greenway offers paved trails ideal for strollers, wheelchairs, bikes and in-line skates. The greenway is beautiful, and there are stretches that are adorned with sculptures and artwork of residents that live along the path. At some points, you feel very close to homes along the greenway, but everyone is friendly, and it is impossible to travel along it on a bright day without saying hello to passersby. Kids love to explore and play in the creek along the way. Once at Squirrel Lake Park, take a break and let the kids play on the playground.
— Charles Angerson
Calories burned: 440 (= a double cheeseburger at McDonald's).
Carolina Thread Trail
Many of Mecklenburg County's greenways are part of the Carolina Thread Trail, which is a regional network of greenways and trails that reaches 15 counties.
Support the trails by joining in the Tread the Thread 5K twilight trail race at 6 p.m. May 12 at Anne Springs Close Greenway. For more information, go to CarolinaThreadTrail.org.