Build a Better Burger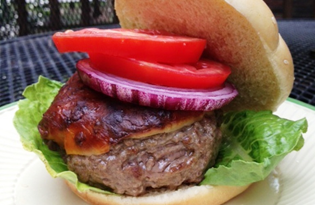 As you think about your summertime family dinners, don't subject the family to drive-thru burgers – make them yourself. Be creative building your own burgers with homemade or store-bought herb mustards, mayos and dressings that add exciting layers of flavor. Toppings, such as a sauté of wild mushrooms and cheese, or a blend of cheese and caramelized onions, add dimension to the standard burger on a bun.
When it comes to the bun, try serving burgers on focaccia bread or whole-wheat rolls, or stuffed in pita or flavored wraps. For a breadless alternative, present your burger atop a grilled portabella mushroom cap, on a bed of puree of cauliflower or celery root, or wrapped in lettuce leaves.
Most experts agree that for all beef burgers, 80 percent lean ground chuck yields the most flavor. For my money, local grass-fed beef is the way to go, or use locally produced sausage, pork or chicken.
To help your burgers remain moist, don't overcook, and add a local egg yolk or a bit of olive oil, flavor-infused oil, milk or cream, or even a bit a mayonnaise to the ground meat mix before you shape patties. Experiment with flavors by adding herbs and spices, a favorite steak sauce, the traditional mix of ketchup and mustard, chopped vegetables such as onion and peppers, or even grated cheese to the raw meat mixture.
Shape meat into patties using approximately one-quarter-pound of ground meat mix for each burger. Make them thick and cook on a hot preheated grill for six to seven minutes per side. Chicken, pork and turkey burgers cook in four to six minutes on each side.
Heidi Billotto is a culinary expert who offers cooking classes throughout Charlotte.
Summer Burger Recipes
> Black Bean Chili Burgers
> Heidi's Sausage Sliders
> Heidi's Inside-Out Cheeseburgers